I was recently asked to speak on organizing for the MOPS (Mothers of Preschoolers)group at Liberty Bible Church in Chesterton, IN.I was working with the coordinator and we had negotiated and finalized my speaking fee.Several weeks later, I had an idea.What if the MOPS group could help me on a giving project I was working on?What better way to spread a message, share about giving and get others involved.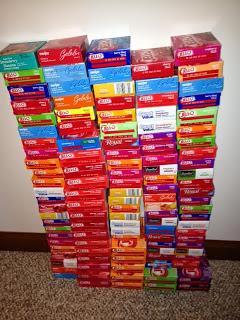 For the past several years I have been volunteering for 500 Turkeys.500 Turkeys is an annual event where hundreds of individuals, businesses and churches collect food and volunteer with a goal of providing families in the community with a Thanksgiving meal.It takes tons of people collecting all the wonderful foods that make up the Thanksgiving meal.500 Turkeys collects mashed potatoes, stuffing, corn, green beans, carrots, yams, cranberries, corn bread mix, brownie mix, boxed JELL-O, salt and pepper and roasting pan.
This year I signed up to collect 200 boxes of JELL-O.Every time I go to the store I pick up ten boxes in hopes of getting to 200!There are no rules on how to collect the items so I thought what if the MOPS group could help me get to 200 faster? I emailed the coordinator and asked if the group would be willing to collect 50 boxes of JELL-O. If so, I would waive my speaking fee.They enthusiastically accepted my challenge. I was so excited!Number one, I didn't have to collect all 200 myself, and number 2 I was spreading the message of 500 Turkeys and getting others involved in giving.1 Making a Difference in action!
I showed up the morning of the speaking event and the women of the Liberty Bible Church MOPS group did not disappoint.They had taken the challenge seriously.They didn't collect 50 boxes of JELL-O, but 115!I was so grateful for their generosity.
I go back to my mission of this blog and really my life.It doesn't take a lot of time or money to make a difference.One box of JELL-O that cost between $.50-$1.00 will make it into a box along with other Thanksgiving staples that will end up on a family in needs table at Thanksgiving.It will be probably the one thing that everyone will eat and enjoy.One little box of JELL-O will impact, most likely, a family of four or more.One little box of JELL-O making a difference and helping to feed a family on Thanksgiving.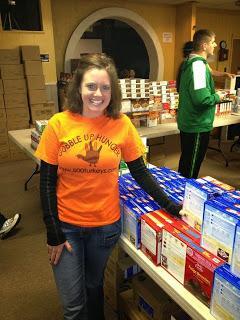 As I was walking out to my car with all the JELL-O and thinking about 500 Turkeys and what the women of the MOPS group did, one of my favorite quotes popped in my head:
"Never doubt that a small group of thoughtful, committed people can change the world. Indeed, it is the only thing that ever has." - Margaret Mead.
I know I have said it often and will keep saying it but it doesn't take much to make a difference!
To learn more about 500 Turkeys or to get involved go to
www.500turkeys.com