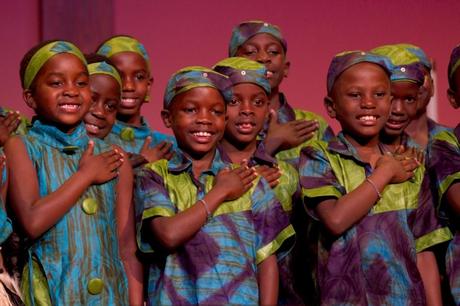 The African Children's Choir reaches out to Mummy Bloggers to help encourage parents to 'Give up a Gift for Africa' this Christmas.
The African Children's Choir – most famous in the UK for their uplifting performance at the Queen's Diamond Jubilee Concert with Gary Barlow – are today launching their Christmas campaign – Give up a Gift for Africa.
The charity is appealing to mummy bloggers to help spread the word of this worthwhile campaign.
Christmas is a joyous time, but wouldn't it be fantastic if one of the presents you gave your child also taught them a valuable lesson?
The Give up a Gift for Africa campaign encourages parents to make a donation to The African Children's Choir as a stocking filler gift for their child.
Once the donation has been made the parent will receive a link to a printable Christmas card via their confirmation email, to put into the child's stocking as a thank you.
The card will allow parents the opportunity to talk to their child about the important message of giving, and how – by donating the value of one of their stocking filler gifts – the child has helped children less fortunate than themselves. The card also allows space for the parents to write a personal message to their child.
Money raised by the Give up a Gift for Africa campaign will go towards both The African Children's Choir programme, and the many other essential programmes run by Music for Life.
Music for Life is the official fundraising charity of The African Children's Choir and works in seven African countries. Music for Life have educated over 52,000 children as well as impacting the lives of over 100,000 children through its relief and development programmes during its 28 year history; creating ChangeMakers for the future of Africa.
The African Children's Choir travels the world, acting as the ambassador for Africa's most in need children – raising much needed awareness and funds for the education of the continent's most vulnerable children, as well as their own education, as they go. They have performed on popular television programmes such as The One Show and Andrew Marr Show and at prestigious concerts such as Live Aid and Live 8.
Talking about the Give up a Gift for Africa campaign, Ray Barnett, founder and CEO of the African Children's Choir and Music for Life said "We are very excited about the launch of our Christmas campaign Give up a Gift for Africa, not only are we seeking to raise much needed funds to educate more vulnerable African children, we also hope to emphasise the importance of giving amongst a new generation."
If you would like turn a stocking filler into a donation this Christmas, for your child or any other loved one, please visit  for more information.
Donations will be made via this Just Giving donation page https://www.justgiving.com/give-up-a-gift-for-africa