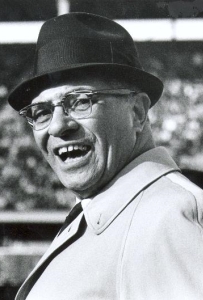 Image via Wikipedia
Vince Lombardi – the famous coach had this to say about discipline – and I would consider him an expert!
"I've never known a man worth his salt who in the long run, deep down in his heart, didn't appreciate the grind, the discipline… I firmly believe that any man's finest hour – this greatest fulfillment to all he holds dear – is that moment when he has worked his heart out in a good cause and lies exhausted on the field of battle victorious."
Do you agree that when you've given your all you feel more fulfilled?
For me getting up early especially when I don't feel like it – can sometimes be hard – it also leaves me with a better feeling about myself – a victory of will.
How can you use Vince Lombardi's words to inspire you today?
What can you work your heart out on what matters to you today?
And here's a final thought from Cullen Hightower to help us move on to doing what is most important.
It's one of those that you think about a while after hearing it, here it is, "Our ego is our silent partner – too often with a controlling interest."
So get out of your ego and your fear and give it your all today – then you'll feel victorious!
You Create Your Day by the way You Think! Be Present!
Go make it a Magnificent Day!
Blessings, Shawna
www.ShawnaSchuh.com
Advertisement