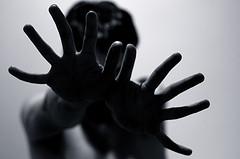 Image by Toni Blay via Flickr
There is a quote from a person named Wilfred A Peterson that's a great reminder for a Monday,
"Take a look at those two open hands of yours. They are tools with which to serve, make friends, and reach out for the best in life. Open hands open the way to achievement. Put them to work today."
Open hands – think of it, think of the fingers, the reach, the abilities expressed there.
Open hands can hold, push, pat, grasp, stroke – all those things that may be of great love and encouragement to others.
These same hands can be used in poor ways – a fist comes to mind – however that picture can be waved away with a flick of my hand –
I think Wilfred has a good idea to remind us that our two hands are tools to serve.
It's also great to think that these two hands of ours are there to embrace life, love, happiness and joy. Throw them wide – stretch yourself today as you live a life you create by the way you think.
Make it magnificent!
Blessings, Shawna
www.RelationalResults.com