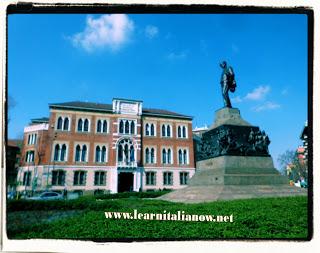 Verdi's house in Piazza Buonarotti, Milan
This year there is  the bicentenary of the birth of the great composer Giuseppe Verdi.
His music works are a world heritage. Have you ever listen one of his operas? Even if you are not fans of this genre, you will appreciate the objective beauty of the notes  and their amazing chorus.
In this celebration it is very  important to remember  not only a great musician but also a great man who took an active part in the political life. If you are in Milan you can visit

"Verdi  house".

You will find it in Piazza Buonarroti, 29 - stop Buonarotti on the red line of the subway.
This house is the last witness of the Giuseppe Verdi's  open-heartedness . He built an house for the musicians less rich to host them  during their old age. It was built between 1869 and 1899 by the architect Camillo Boito, the brother of the Verdi's  librettist. After the death, Verdi had specified  in his will to devolve  all the  profits derived from its intellectual property rights to the maintenance of the Verdi 's house. The first guests of the house came in 1902 and - according to the statute- he/she had to be an  Italian citizens, musicians, and over 60 years old. Even the foreign musicians and their relatives can be hosted here. The house contains many pieces of the furniture that belonged to the musician and have come from  his home in Genoa.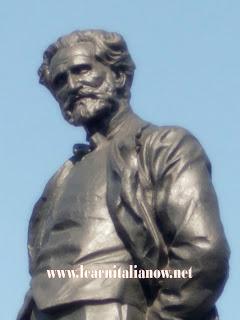 The Verdi's statue , Milan
This house is an important place and it was the last gesture of  the magnanimity of this great man, who showed that the fame and success  can still leave  enough space for the altruism. 
Thus it should always be.
If you are in Milan you can  also visit
http://www.learnitalianow.net/2012/08/what-to-visit-sforzesco-castle-castello.html
http://www.learnitalianow.net/2012/04/what-to-visit-navigli-milan.html http://www.learnitalianow.net/2011/12/what-to-visit-museo-del-novecento-milan.htmlù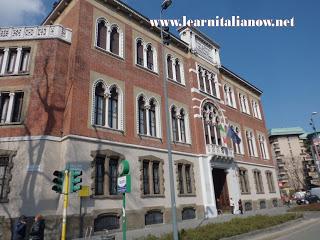 The Verdi's House, Milan
Questo anno cade il bicentenario della nascita del grande compositore Giuseppe Verdi. Le sue opere sono patrimonio della musica. Vi è mai capitato di ascoltare una sua opera? Anche se non siete amanti del genere apprezzerete l'oggettiva bellezza dei brani e la loro stupefacente coralità.
In questo festeggiamento così importante oltre a ricordare un grande musicista e un grande uomo che partecipò attivamente alla vita politica, se vi trovate a Milano potete approfittare di passare alla "casa Verdi".  La troverete in piazza Buonarroti , 29 alla fermata della linea rossa metropolitana Buonarotti.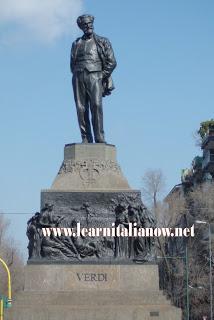 The Verdi's statute
Questa casa fu l'ultima testimonianza di generosità di Giuseppe Verdi e fu costruita per ospitare i musicisti meno fortunati durante la loro vecchiaia. Fu costruita tra il 1869 e il 1899 dall'architetto Camillo Boito, fratello del librettista di Verdi. Alla sua morte Verdi lasciò scritto nel suo testamento  che i guadagni derivanti dai suoi diritti d'autore fossero destinati al mantenimento della casa Verdi. I primi ospiti della casa arrivarono nel 1902 e secondo lo statuto devono essere cittadini italiani, musicisti e con oltre 60 anni di età. Anche musicisti stranieri e  i parenti dei musicisti possono accedervi. La casa contiene molti mobili che appartenevano al musicista ed alla sua casa a Genova. Un luogo importante e l'ultimo gesto della magnanimità di questo grande uomo che dimostrò come la fama e il successo lasciano comunque spazio anche all'altruismo. Così dovrebbe sempre essere.