It's that time again… Time for some of your favorite authors, and sure-to-become-favorite authors, to get together and have a blast writing on a topic together. Our job: This time around to each entertain and enlighten you about one of our beloved locations in writing, the setting that really inspires us and our characters. Your job: To "hop" to these blogs, one by one, and leave comments if you want to qualify for the amazing GRAND PRIZE our hostess Libby Mercer has assembled. It's pretty darn impressive, I tell you! (And a huge thanks to Libby for putting this all together!) You can also get a chance to receive a smaller prize when you comment below!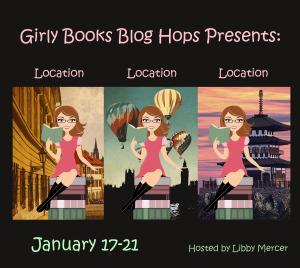 Come meet one of my favorite places in the world!
So what exotic port of call can you expect to be transported to from my Crazy Shed? A city of romance and magic. A place where people fall in love and find themselves and dreams really do come true…
Ladies and gentlemen (because I know dudes are here reading these), allow me to introduce you to one of my favorite places on Planet Earth: Bayside, Queens, New York City!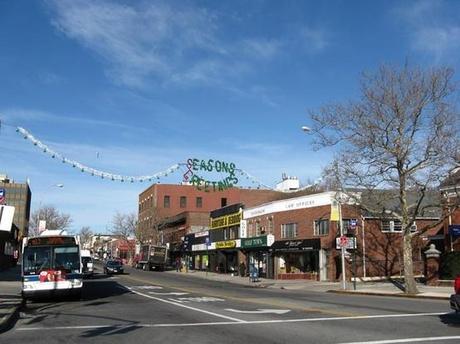 Beautiful Bayside! (We used to live to the left of that bus.)
Crazy, this town. I wasn't born there, but I was born as a writer of fiction there. I didn't grow up (to age 21) there, but I grew into a woman (from ages 23-35, on and off) there. I met my husband there. Came back there after our wedding and honeymoon. Brought our first child home. It's fair to say my heart is there, no matter where I happen to live now.
I think that's the reason all my stories are set in Bayside.
Those who know my work know I have a tendency to jump genres, but there are two significant threads that make my stories mine: They always involve a lost soul finding her (and could be his at some point, you never know) way. And they are always set in this unexpected town.
The apartment Amy shared with David in Rita Hayworth's Shoes, where the neighborhood guys act as a "Greek chorus" of sorts on the front stoop. The Aberdeen Funeral Home, where Amy first meets Deck. The college where they work, Stratton University. In The Girl, the Gold Tooth & Everything, Mina heads to Bayside for her appointment at the Pearls of Wisdom Dental Spa, and both Char-a'tee Pryce and Alex seem to live there.
Bayside is a real place, so of course it begs the question: Do I use real locations in my stories?
While I'm sure the wacky Aberdeen and over-the-top Pearls of Wisdom would both do killer business in Bayside, neither of these places, alas, is real. However, the diner where everyone always seems to meet up is. The Omega is an old-fashioned coffee-shop kind of joint on 32nd Avenue off of Francis Lewis Blvd., and it is one of the kindest establishments imaginable. I can't even begin to count the number of keystrokes I made there back in the day, or the number of French fries I consumed…

Ah, the Omega! That's the owner, John, on the right. A very kind man. A very cool place. (A terrible picture, I know, but I stole it from the Internet. Can you imagine that this was the only one I could find? I mean, it's the Omega for cripes sake!)
One of the places I really wish I could visit, though, is the fictional Smitty's. For a divey second-hand store, it sure gets a lot of action. It's in Smitty that Amy falls for the magic shoes, and Mina finds the dragonfly-topped perfume bottle that re-sparks her mojo. Smitty's is already playing prominently in two of my WIPs: as both a once-elegant home goods store turned dump in one, and a portal to ancient Greece in another. (Oh yeah. That's true.) I wonder what kind of magic could be found in Smitty's if it were real? Hmmmm….
Anyway, while I only lived in Bayside about 25% of my life, it remains my favorite place on earth. Except for Tuscany. And St. Martin. And Paris. Oh, and the South of France. But it's right up there with them. And while hundreds, thousands of others have penned stories that unfold in all these other wonderful and exotic places, I bet there's only a handful of us (or maybe just me) who feels such an inspired affinity for this quaint, quasi-suburban town.
And now for the rest of the writers on this tour. Please click on the links you'll find below and enjoy the journey! If no links show for you because I am techo-challenged, simply click here, and you'll be taken to the page of someone who knows what she's doing… In any case, please be sure to leave me a comment about your most inspiring place, and you'll get a chance to win a FREE ebook, set in, you guessed it, Bayside! Choose the quirky psychological drama / mystery The Girl, the Gold Tooth & Everything or the screwball rom-com Rita Hayworth's Shoes. You'll also win a $10 Amazon.com gift card you can use to discover more books…like ones from the other authors listed below.
Happy travels!
1. Author Libby Mercer 2. Savannah Page, author
3. Sibel Hodge – Romantic Comedy and Mystery 4. Susan Buchanan
5. ai love books 6. Elizabeth Marx, Words Written, Memories Made
7. Tana Rae Reads 8. Ramblings from Raeann
9. Samantha Stroh Bailey 10. Meredith Schorr – Real Chick Lit For Real Chicks
11. author Holley Trent 12. Hey There, Its Christa
13. Melinda Dozier – Contemporary Romance Author 14. Chicklit author Emma Kaufmann
15. Chantel Rhondeau – Romantic Suspense 16. Toddie Downs, Empress of the Everyday
17. Julies Chick Lit 18. Not necessarily in that order
19. Love is a Many Flavored Thing 20. Annie Seaton Blog Spot
21. Laura at Change the Word 22. Nell Dixon
23. Shakin and Quakin 24. Carmens Blog
25. ST Bende 26. Clippings In The Shed – Francine LaSala
27. Laura Kilmartin – Books & Blog 28. Ann B Harrison Blog Spot
29. Natalie-Nicole Bates (INT) 30. Christina Esdon: Humor required, panties optional
31. Novel Girl 32. Liv Rancourt
33. The Misfortune of Knowing 34. Sharon Kleves Romantic Ramblings
35. Lolas Reviews 36. Sara Palacios
37. Chick Lit Chit Chat 38. Caitie Quinn
39. Stephanie Haefner- Slip into something sexy. . . . 40. Gwen Ellerys Girly Novels in Paris and Blog
41. Girly Books Grand Prize Giveaway Post