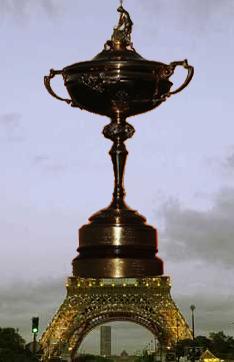 The Ryder Cup in 2018 will be played in France at Le Golf National near Paris.

Hard cheese to Spain, Portugal, Germany and The Netherlands.
The successful French bid was part funded by a three euro levy by 400,000 registered golfers in France payable until 2022. This cordial arrangement got our little brains at Golf Refugees a wondering.

Do you think English golfers would be willing to pay a three pound levy to help fund the building of 100 urban golf courses consisting of between 6 – 9 holes?

Being golf fans we love the Ryder Cup. However, for us, there is one crucial element missing; girls. We've said this before; we'd like a Ryder Cup style golf event to include the best male and female golfers. Imagine Tiger Woods and Morgan Pressel playing together verses Rory McIlroy and Melissa Reid?
------------------------------------------------