The new Le Corbusier Trilogy by Girard-Perregaux offers a journey through the personal history of the famous pioneer of modern design and architecture. There are three watches in the set, one named La Chaux-de-Fonds, another Paris, and the third, Marseille. The designs incorporate the patterns and principles found in Le Corbusier's famous work.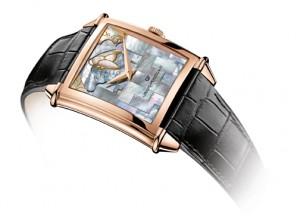 via Forbes
La Chaux-de-Fonds is where the architect got his start as Charles-Edouard Jeanneret. He studied at the School of Art as an engraver and sculptor. The city was known for its watches and many refer to it as a watch-making capital. This first watch is worth an estimated $53,200. The watch is carefully created by an artisan over a period of seven days dedicated to portraying the architect's early works. The watch will be carefully sculpted, polished, and varnished.
In Paris, Jeanneret officially assumed the name, Le Corbusier, and found himself influenced by the period of Modernism which was the current popular style. The watch to represent this period is worth an estimated $21,300. It has a cowhide strap with a steel case that depicts the modernist male figure.
In Marseille, Le Corbusier contributed to his famous unités d'habitation. In Marseille it took the form of a 12 story structure that housed 1,600 residents. The $31,900 watch depicting this period has a unique concrete dial that is hand crafted over three days. It must be poured, dried, and hand finished.
This collection of luxury watches is proudly being produced by Girard-Perregaux, who has obtained the rights in exchange for donations to assist in the restoration of Villa Le Lac, located in Corseaux, Switzerland and to the preservation of the Maison Jeanneret – Perret in La Chaux-de-Fonds. There will be only five pieces produced of each watch, so those who are interested should inquire promptly.
Jessica B for Raymond Lee Jewelers, South Florida's premiere source for buying and selling luxury watches and designer jewelry.