Last year at Halloween I was in the arts and crafts supply shop Creativity on Worrall Road buying some felt or glue or something.  As I walked past the display window I was greeted by a magical, mystical miniature world that someone had dreamt up.  The details, the colours, the characters, the whole scene made me feel like I'd jumped into the window display and was a child again.  Or in a children's book. Or an animation.  As my boyfriend carried on walking, my feet were stuck to the pavement and my eyes to the window.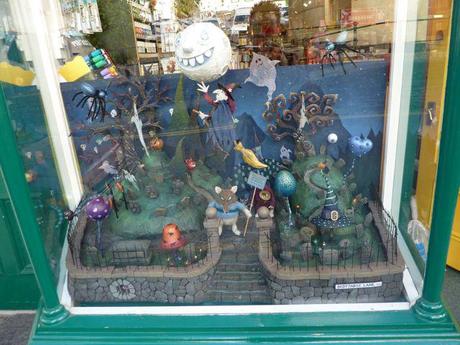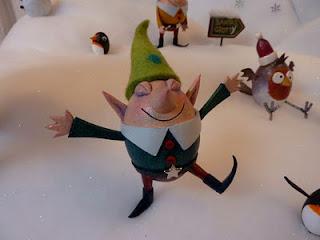 Then, at Christmas, another seasonal window display, as if the characters that were there over Halloween had upped and gone back to Trickortreatsville and taken all their ghoulish Halloweeniness with them.  And the Christmas world had moved in.   Or at the very least the craft fairies had come and worked their magic, created this new Christmas winter wonderland.  In the shop window.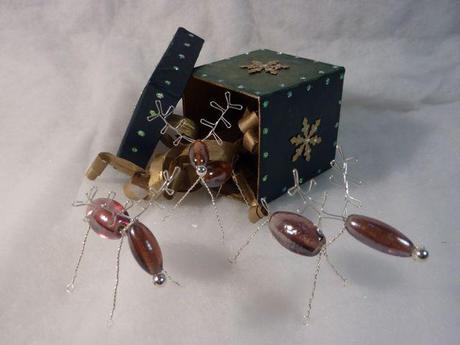 I loved these window displays and spent ages looking at the details, admiring the workmanship and giggling at the clever ways beads were made into reindeer and wooden bell ornaments were made into toadstools.
Rhys L Reed is the man who crafted these scenes lovingly, down to the tiniest detail.  When I started the blog I knew I had to speak to him and do a post about his work.  Last Friday I met Rhys at his beautiful garden shed workshop.
There has also been an Easter 'Spring has Sprung' scene: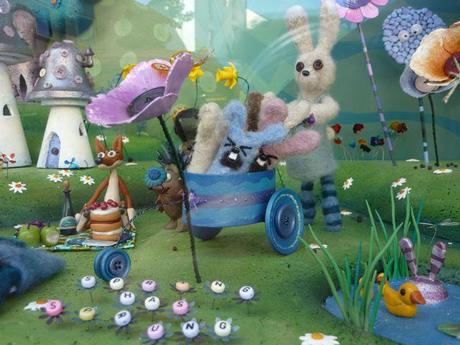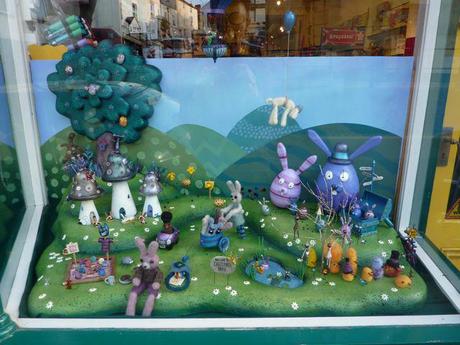 And more recently an underwater scene: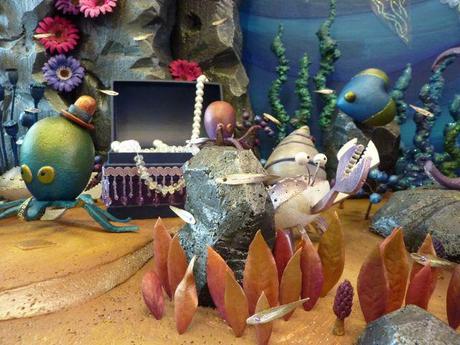 Rhys uses a variety of materials, from polystyrene, to felt, to polymer clay (he prefers Sculpey to Fimo) and his knack is storytelling, seeing a character and developing those characters to make up a dream like, fantastical, mythical world that draws you in.  Details are important to Rhys and I think it's the details of his work that lend a depth to the worlds he creates.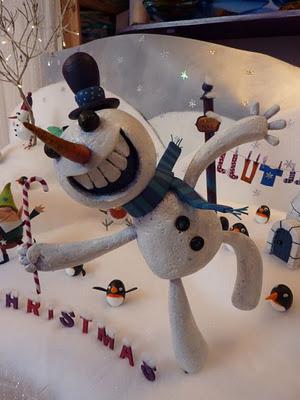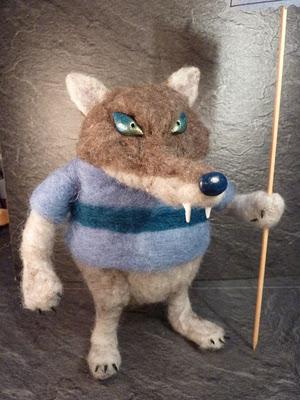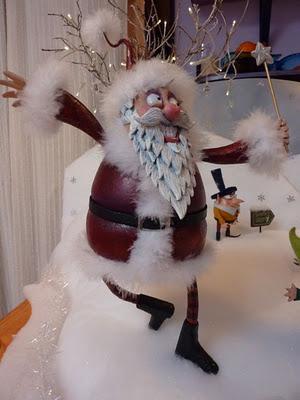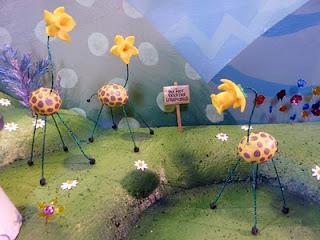 He has a wicked sense of humour, daffodils become 'Giraffodils' and bunnies are transformed to 'hot cross bunnies'.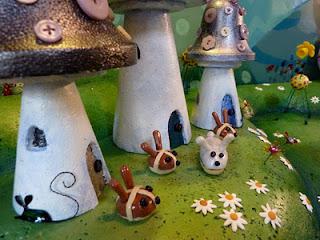 Primarily an illustrator and storyteller, Rhys grew up in a very creative family, his mother was a potter and there was always access to paints, crayons, paper, colourful items, glue and anything else one might need.  After caring for his children when they were younger, when he and his family moved in with his mother who became unwell, he started illustrating and making again.
He makes from a workshop at the end of the family's garden which gives him the peace of mind to be separate from all the distractions of the house - we agreed that even hoovering can be a distraction when you've got a 'project' you should be working on.  As well as  illustrating and making, he has recently written graphic novellas, books, and was recently commissioned to make a model mantis for someone's desk.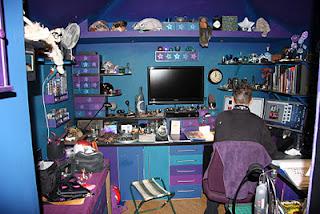 He has whole draws full of found and bought things, buttons, rusty metal objects, belt buckles, you name it, it's in there.  His workshop itself is quite gothic and other worldly and I can see how it takes him into his other world to make stories and create characters.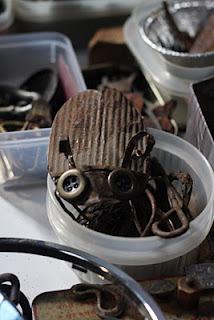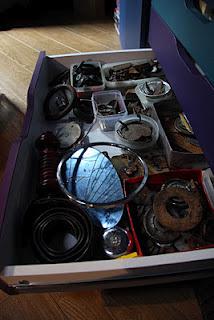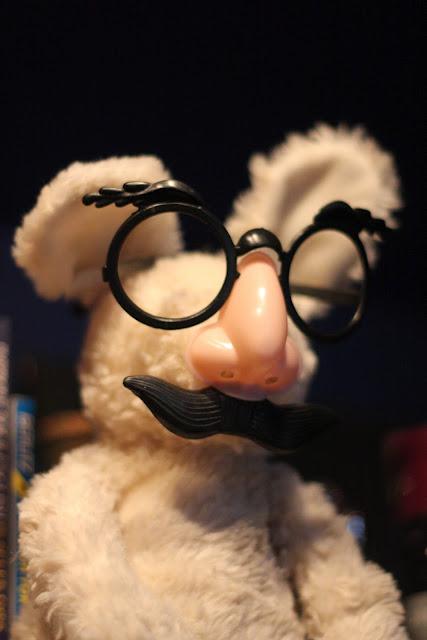 Rhys can see a face in everything, he holds up several pieces of metal to show me that they already have eyes and are waiting to be turned into something - someone.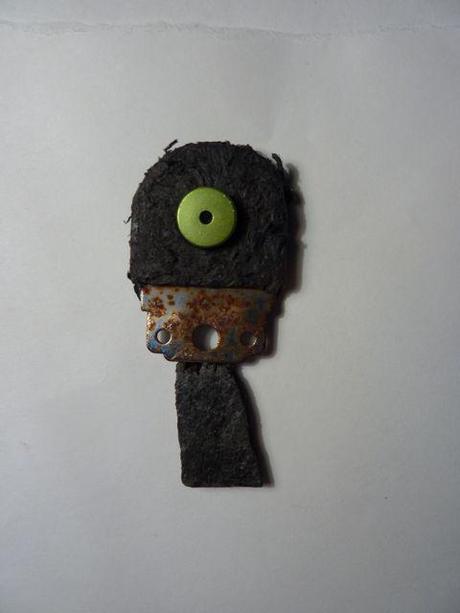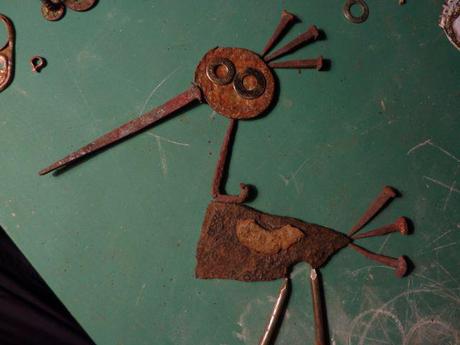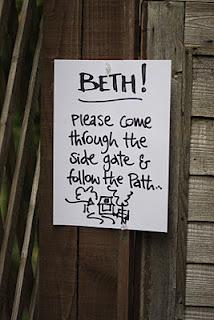 When I got to the house there was a note on the back doorpost which made me laugh, it was clearly an introduction to Rhys' world: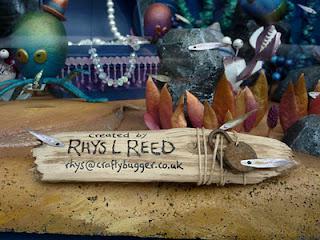 I loved my introduction to Rhys' world and I hope next time you need some glue or felt you'll make your way to Creativity, the window displays really are a sight to behold and the shop itself a crafter's dream.  His website is here and if you want to learn how Rhys creates some of his fantastic creatures he holds workshops at Creativity and may start producing kits and a book...watch this space.