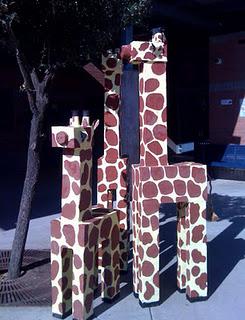 Mylien, a teacher from Chandler, Arizona shared her very successful paper mache project that is sure to inspire others. These giraffes were made by 6 classes of kinders and first graders at Mirada Elementary School. 
Parent volunteers first assembled the juice cartons (see my initial Giraffe post) and then had a few students at a time apply mache layers of pre-cut strips of newsprint. They would alternate directions with each layer so that the next parent coming in would know what to do next. Two layers of mache and then a final layer of unprinted newspaper were applied. Parents outlined the spots with yellow paint, and each student filled in one brown spot. 
Their giraffes were completed just in time for last week's art fundraiser. Because it was such a unique sculpture, Mylien did not expect the giraffes to do well but to her surprise, they raised a total of $500! Congratulations to you, your students and your parent volunteers, Mylien. It's a great example of how even very young students can make amazing art and a difference, when careful planning is involved.