Recipe Number One Hundred & Thirteen:  Page 185.
Gingerbread is perhaps one of those things you either love or could perhaps live without. To some the flavor is too dark and strong, but equally that is the appeal for others. One thing I do know is that my brother-in-law loves it. I don't know him to be overly fussed by cake in general, but he will always have a second slice of gingerbread. As his birthday was on Saturday, I looked through the many gingery recipes in the Baking Bible and decided upon this traybake. I chose to make the cake the night before. Gingerbread is at its best a day or two after baking, so there was no rush to make it on the day.
It had been a busy day and it was almost nine o'clock before I trotted into the kitchen with my Baking Bible tucked under one arm. I was very pleased that all the ingredients were to be mixed in one saucepan, yay, less washing up!
My first thought when measuring the very sticky golden syrup and black treacle into the saucepan was – tooth decay!! I couldn't believe how much was required. My horror quickly increased when I added nearly half a packet of muscovado sugar. I might as well book an appointment with the dentist now! When I measured the butter, even though I needed a large amount, it somehow seemed rather sparing in comparison. I put the saucepan over a low heat; Mary makes it clear that it should be heated very gently, if too hot the flour will go lumpy when stirred in. Once the butter had melted, I took the pan off the heat and stirred in the flour. Even though I had followed the instructions and heated the mixture over a very low heat, the flour still went a little lumpy! Not only did I require the obvious ground ginger but also mixed spice. I needed a good quantity of each; this was going to be a dark and well spiced cake, perhaps not for the faint hearted. I needed to beat the eggs a little before adding them to the saucepan. This was swiftly followed by a little milk. The rich but sweet smelling mixture had to be beaten until smooth. As I could still see one or two tiny lumps of flour, I decided to sieve the mixture into the lined tin. I didn't want to take any chances, especially as it was a gift. As with the other gingerbreads I have made, the mixture was alarmingly runny. I always think there is no way it will cook in the suggested time! Ginger soon wafted from the oven; oh what a glorious smell! Once cooked and out of the oven, the cake was well risen and firm to the touch. The top had a wonderful sticky shine, just like a good ginger cake should have, well in my opinion anyway. The spicy dark cake cooled on a rack and, once cold, I wrapped it in a layer of baking paper followed by a layer of foil. It was nice and cosy for bedtime, which was where I was also heading!
The following morning it was time to cover the top of the cake with icing. I made the mistake of sifting the icing sugar whilst wearing my freshly washed and ironed trousers. Well of course they got smothered. I've said it before and I'll say it again, I hate icing sugar! I added just a little water to the evil sugar and mixed to form a thick paste. You really have to like ginger to eat this cake as stem ginger is added to the icing! I chopped several bulbs as small as I could and then stirred them into the icing. It was rather tricky to spoon and smooth the thick icing over the cake, but I got there in the end. I wasn't sure about the finished look of the cake; the lumps of stem ginger didn't look very pretty. I think it would have looked better if sprinkled on top, rather than mixed in. However, once cut into generous squares, it looked more appealing. The dark brown of the gingerbread contrasted beautifully with the white of the icing.
Neil's brother was pleased with his cake and said it was the best gingerbread he'd had all year, a compliment indeed. The cake was as predicted very treacly and gingery! This is a cake for true gingerbread enthusiasts. I found this traybake easy to make. It also didn't require much washing up; I consider this to be a huge plus. The taste was dark, sticky, and delicious! I have to say Mary Berry knows how to make an excellent gingerbread!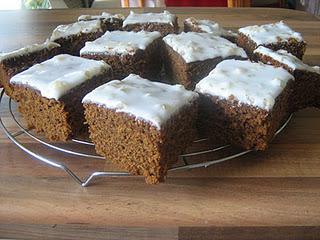 Not sure about the lumpy icing!