These soft and chewy Gingerbread Snickerdoodles are so easy and perfect for the holidays. These two-tone cookies are full of flavor, and made with only four ingredients!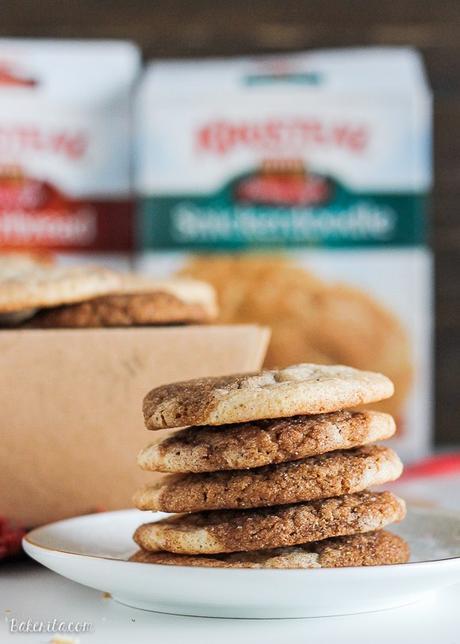 Sometimes you need one of those recipes that is seriously so easy but so delicious that you'll want to make it time and time again. This is totally one of those recipes – and the flavors of gingerbread and snickerdoodles work together so perfectly, you won't be able to keep your hands away from them.
Back in September when I was visiting the Krusteaz headquarters and representing them at the International Food Blogger Conference as a part of the Baker's Dozen, we ate a lot of cookies. One of the events that the Krusteaz Baker's Dozen helped to host was a super fun cookie exchange where all of the bloggers in attendance did some fun crafts, got to know each other, and of course…we each got to take home TONS of cookies!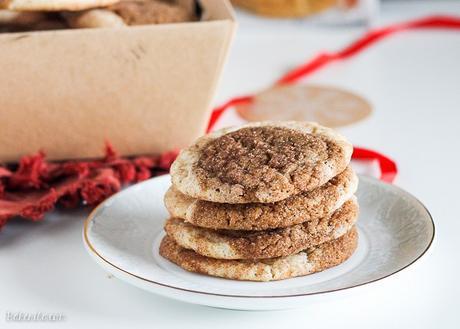 We definitely all ended up eating a few too many cookies, tasting for our favorites and going into a serious cookie induced sugar coma, but it was worth it. Two of my favorites ended up being cinnamon-heavy, holiday classics: gingerbread and snickerdoodles! Each is soft, chewy, and well spiced. They taste truly homemade, and they taste even better together!
Krusteaz cookie mixes are so easy to whip together, so I made two and rolled them together. Because one of the flavors I used was snickerdoodle, the whole cookie with both doughs got rolled in the cinnamon sugar mixture, which makes the flavors of both cookies come together quite harmoniously.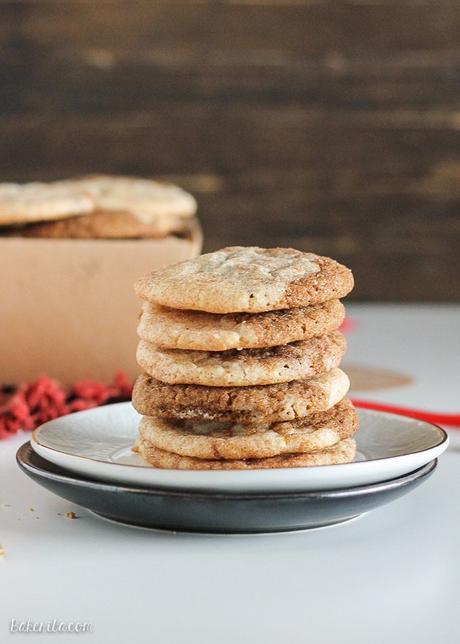 You could easily switch out the cookie doughs for your favorites – having the half and half cookie is so much fun! You can take a bite from each side to get each flavor individually, or eat along the seam for a dual flavor experience. I definitely recommend the snickerdoodle though – it's so buttery and delicious, and that extra roll in cinnamon sugar makes them outstanding! Enjoy :)
Facebook | Instagram | Twitter | Pinterest
Remember to #bakerita if you try the recipe!
Gingerbread Snickerdoodles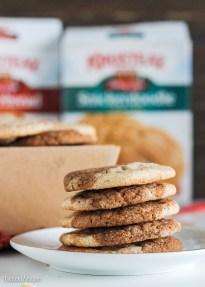 Save
Print
Prep time 20 mins Cook time 10 mins Total time 30 mins   Author:
Rachel Conners
Serves:
36 cookies
Ingredients
1 package Krusteaz Gingerbread Cookie Mix
1 package Krusteaz Snickerdoodle Cookie Mix
2 eggs
2 sticks butter, softened
Directions
Get the directions on Krusteaz website by clicking here.
3.4.3177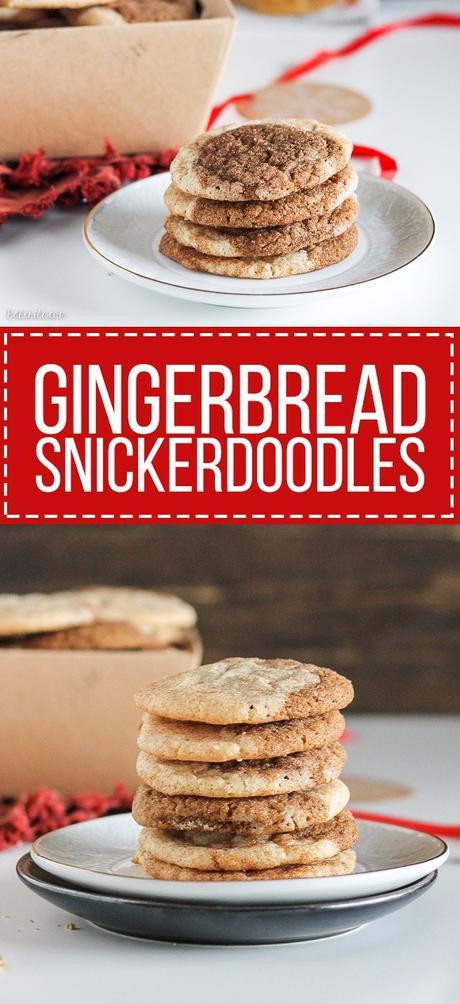 This post is sponsored by Krusteaz as a part of my ambassadorship with the Baker's Dozen. As always, all opinions are my own! Thanks for supporting the brands that support Bakerita.
There's more where that came from!
Peach Snickerdoodle Crumble
Pumpkin Spice Cookie Sandwiches with Cream Cheese Filling
Chocolate Chunk Espresso Blondies
Ultimate Chocolate Spiderweb Cookies
Elvis Pancakes
Apple Cinnamon Oatmeal Cookie Bars