Are you all feeling the heat? There is no denial, the summer has already hit us in UAE after a couple of cool breezy evenings which was a relief from the usual May days. And hit us hard! As the days are getting longer and hotter, my family is preferring more to stay indoors and hydrated. We are already looking forward to winters which seem to be a milestone away. Ever since I picked up a book containing mocktail recipes by Sanjeev Kapoor from Crossword aisle in India, I hardly had a clue how much it would go perfectly with the weather in the Middle East.
Apart from serving fresh juices to Little A and hubby everyday, a medley of certain ingredients from the kitchen is always welcomed with open arms. And a cool glass of sweet spicy lemonade seem just right for those lovely lazy weekends. Ginger lemonade is a fantastic combination of ginger, lemon, mint and sugar – strained and served chilled with water. Add vodka instead of water and it will be a perfect cocktail drink for house parties! This is my dream drink with a day dream of owning a huge villa with a patio alongside the open beaches of Jumeriah, overlooking beautiful sea, reading my favorite book while sipping on a chilled refreshing lemonade!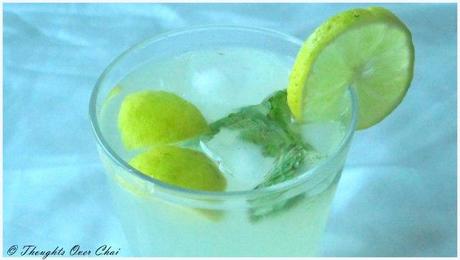 Let me know how you find ways to beat this scorching desert heat.
Recipe for Ginger Lemonade.
Ginger Lemonade
Servings: 2
Time: 30 minutes
Ingredients :
Ginger – 2 tbsp, grated
Lemon Juice – 2 tbsp
Sugar – 3/4 cup
Lemon wedges – 6
Fresh mint leaves
Ice cubes
Water
Method -
Place sugar and ginger in a pan with 1 1/2 cup of water. Bring mixture to a boil, stirring until the sugar dissolves.Simmer for another few minutes. Strain the syrup and set aside to cool. Combine the syrup with 2 cups of water. In the serving glasses, place lemon wedges and mint leaves. Muddle it slightly to extract juice. Add in 1tsp of lemon juice in each glass and top it with ice cubes and ginger-sugar-water mixture. Serve immediately.