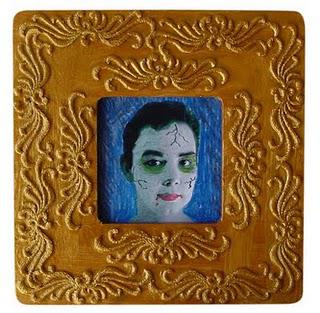 I found a great book simply called "Halloween" by Joanne O'Sullivan, which has a ton of creative ideas. This is an adaptation of a portrait project, which I am including in an after-school class next month.

1. I started with one of those super-inexpensive unfinished frames from Michael's. had some iron-on appliques in my stash of supplies. You could probably buy something similar from JoAnn's. You just need something that looks decorative to imitate the look of a fancy old picture frame. I covered my frame with a thin layer of Mod-Podge, placed the appliques on top, and let dry.
2. When the frame was dry, I applied a generous amount of metallic gold acrylic paint on top, taking care to get paint in all the edges and on the sides.
3. I took a digital picture of my handsome son, turned it to a black and white image, and printed it out as a 3.75" square on some good matte Epson paper. To make the face look painted, I filled it in with colored pencil and added some detail on top. I can imagine printing out several copies for kids to work on so they could pick their favorite. I like the way this turned out and can't wait to try it in a few weeks!