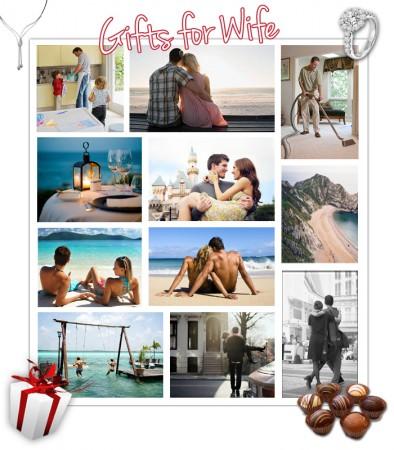 'Wife' the person who runs the house without any complains. She's there to make sure that everyone's needs are met and makes them feel special. This women's day make her feel special, give her a day off from her mundane tasks and fill her day with loads of excitement. There are many ways in accomplishing this right from the simplest things that will make her feel special. Pamper her, love her, shower her with gifts but more than that make her feel special and show what she means to you.  She may be someone to the world but convince her she is the world to you.
The things that she would love on this women's day are as follows:
Cook for her. Sounds simple but it isn't really. Surprise her on this day by taking charge of the kitchen. Right from breakfast to dinner, it will be nice if you did it with a little help from your kids. Remember to clean up the mess after cooking and give her a much needed day of relaxation.
Take her out to her favorite spa and let her have a great relaxation treatment, a much needed one.
While she is away at the spa, take this opportunity to tidy up the house and also decorate it beautifully with scented candles and flowers and set up a candle light dinner for just the two of you.
A woman selflessly works all through the day without complaining and doesn't even get the required time and attention from her husband at the end of the day. So take this opportunity to spend some quality time with her. Rekindle the love in your relation.
All women love jewelry, so take this opportunity and gift your wife a set with a diamond necklace and matching earrings. She will be thrilled to receive this exquisite gift. Diamonds are a woman's best friend and you cannot possibly go wrong with this gift.
If you are on a budget since you splurged on her Valentine's Day surprise, you don't need to worry as a bouquet of her favorite flowers coupled with a box of handmade chocolates will also be much appreciated.
Wisk her away for a vacation, make this vacation a time where you indulge in all the things she loves. Whether it's water sports or a long walk down the beach. Make sure that you make her realize that she is the center of your universe and appreciate all the things she continuously does for the entire family.