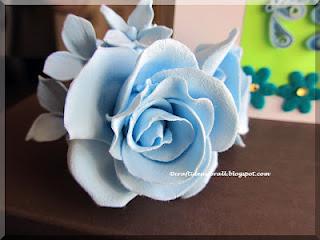 Sometime back I was wondering how can I make a gift to a friend's new born baby a little special.Like many of us I love to give new born baby, clothes among other things. Problem with clothes is that it is a little uninteresting to pack them as is.
I got an opportunity to give some baby boy clothes to a dear friend when her baby boy was born.
This is how I wrapped and gifted it to her.
Supplies needed
- Gift box
I had a baby gap gift box (I usually request for a gift box at shops like Baby Gap, Gymboree, Children's place etc. Some give it for free and some charge a little amount for it). I love the brown color and the inside colorful stripes.
- Light Blue Ribbon
Another color which I think is favorite of everyone for little boys is light blue.
- Clay flowers (blue)
I had some lovely blue clay roses and clay hydrangea which I made earlier. You can learn making some clay flowers
here
. Or you can use paper flowers some tutorials
here
or silk flowers or fresh flowers will do too. I do believe that Flowers speak words we often cannot find. Hence, the flowers.
- New Baby card
I had made a quilled new baby card especially for her. I believe cards are a must when you have to express your happiness and best wishes especially for a new baby.
You can make any card or buy one if you are out of time. Make sure you date it and write your name and some lovely sentiments.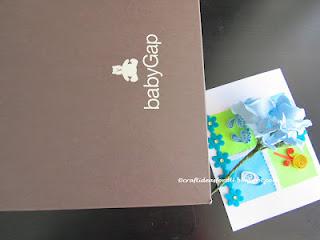 Assembling these didn't take much time.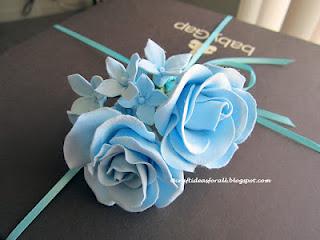 The gift was looking as I wanted it to look.My friend loved it too.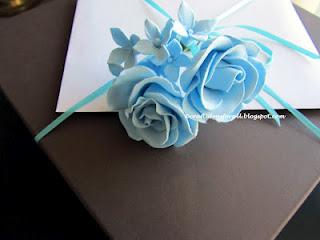 She loved the card and the flowers the most and especially the fact that it was handmade. I hope this will give you some ideas to make your gift giving extra special for you and the receiver too.