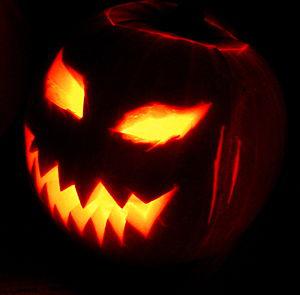 Image via Wikipedia
It's Halloween today and this evening – trick or treating will be happening all over the nation – kids will be scared and delighted – be hopped up on sugar and over the top tired and not a single witch or goblin will appear at our door.
No candy to buy, no door to man – no wonderful little costumes to exclaim over and enjoy and it's because we're living the rural life.
No one wants to drive up our bumpy gravel drive for half a mile to see if we have our porch light on, nor should they. Halloween is best in the safety of streetlights and neighborhood watching.
Halloween works best in a neighborhood or a community mall, or a quaint downtown gathering where parents and kids can wander, be seen, know the treats are safe and experience the wonder of being somebody else for awhile.
Think about that – being someone else for awhile – a traditional scary character like a ghost or a witch – or more likely and more fun – a fantasy or favorite character role. Like a princess, a super hero or rock star.
I think that's why Halloween is the second most popular holiday after Christmas – because for one night we can put on the costume and become a princess or a cowboy or a pirate and for all of the trouble and expense, bring home not only a bag of treats – but a heart full of experience –
Pretty cool don't you think?
And a little treat for you today: Why did the boy carry a clock and a bird on Halloween?
Is was for "tick or tweet?"
Remember, you create your day by the way you think. Make it Boo-tiful!
Blessings, Shawna