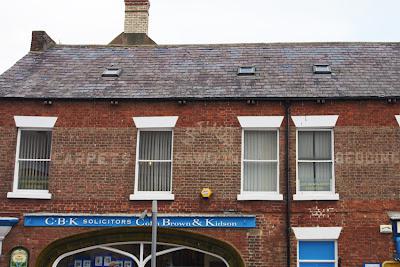 Famous for its Dracula connections, Whitby carries many other traces of the past. Its retailers have left not only ceramic tiles, but also ghost signs. Indeed, the former Wellington Rooms has both: tiled signs at street level and an advertisement for Arthur Sawdon above.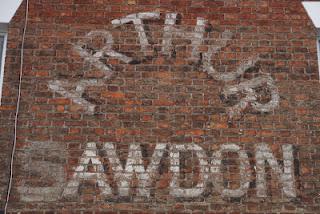 Compared to the musical and house agency services offered by George Thompson, Sawdon's carpets and beddings seem relatively mundane. However, the London Gazette of 1955 tells a more complicated story: notice was given of the dissolution of a partnership between Sawdon and one Arthur Coates Corner, which had been 'carrying on business as Auctioneers Estate Agents and Furnishers'. Sawdon was retiring, but Coates would carry on business under the same name. Thus Thompson's business seems to have continued, evolving from pianos to carpets, over several generations of ownership.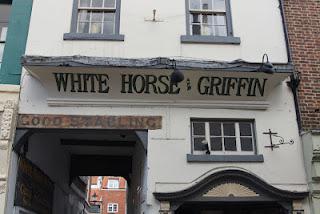 Although there appears to have been a merger, turning the White Horse Hotel into the White Horse & Griffin, they have proudly kept the original signs. Not only is good stabling promised on the facade; inside the archway, the hotel ensures its guests that it is fully licensed with Smoke & Club Rooms. Not only do these signs remind us of the days when horse transport was the norm; they also tell us a great deal about the class of clientele to which the hotel catered.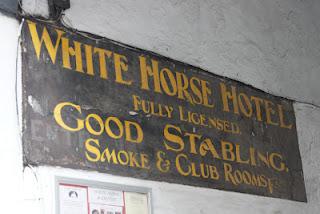 It's hard to go far in Whitby without seeing reminders of the jet industry. The number of manufacturers has shrunk enormously since the Victorian heyday: Thomas Bryan's wholesale premises are now a shoe shop.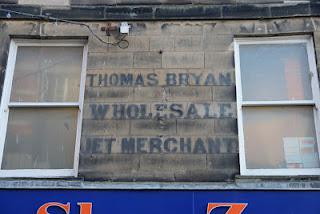 Finally, this sign for Kirbys presumably marks its former premises as there are no further clues to what goods or services were offered.