For one small Breton town, Yffiniac has a good selection of ghost signs! Almost inevitably, there is one from Suze in its distinctive yellow and black. Traces of the distinctive bottle are still visible to the right. However, this example is a palimpsest: there are intriguing traces of another sign whose text includes the word 'qualite' (quality). Unfortunately, further details are difficult to distinguish.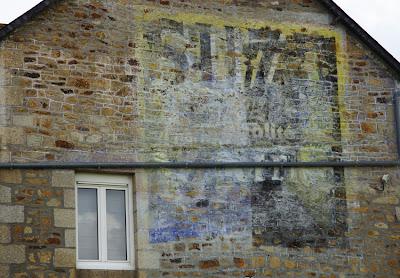 Should you fall for the alcoholic charms of this advertisement, the next offers a sobering thought (if you'll excuse the pun). It's a drink-driving advert similar to that in Plestan, exhorting drivers that Your car is sober, be the same.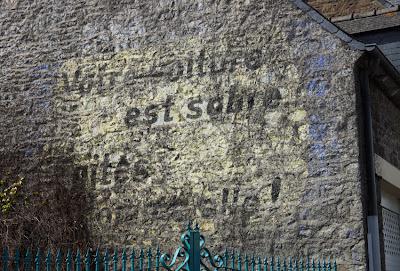 On a brighter note is this incomplete but strikingly colourful advert for Radiola. They were an electronics brand, founded in 1922 and best-known for its radios. The key problem with selling radio sets was the lack of broadcasts to listen to, so the company also created its own radio station which began broadcasting in November that year. Programmes went out for just an hour and a quarter each evening, with an extra afternoon concert on Sundays. In 1923, other companies joined in funding the station which would later become Radio Paris.Radiola continued manufacturing radios and, later, other appliances including televisions until it was taken over by Philips and the brand name disappeared.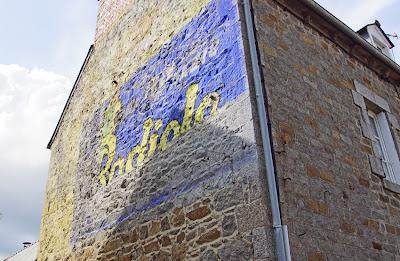 Finally, there was a little teaser: peeping out from the edge of a modern billboard was a painted trace of an advertising agency's details. That suggests an advertisement was also present, now obscured by its modern usurper.