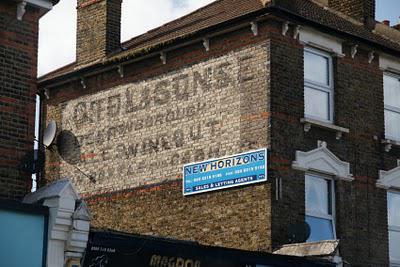 I was returning from the crime fiction event at Lewisham Literary Festival when I spotted this sign on Hither Green Lane. (Books, tea, cake and a ghost sign: the perfect afternoon!)
Two adverts have been painted on the same spot, both in black lettering, which makes them rather difficult to decipher. One appears to be headed 'Off-licence' with the words 'beer', 'wines' and perhaps 'spirits' arranged diagonally underneath. The other has 'agents,' alongside the heading 'Fox & Sons'. Below that is 'nborough', all that remains of 'Farnborough', then 'Ales Stout' and finally 'In bottle and cask'.
It seems clear, then, that there was an off-licence here for some time. The 'Fox & Sons' of 'nborough' was more mysterious, so huge thanks to Brian for solving that mystery. He included a link to some great pictures of the brewery and one of their advertisements.
The Farnborough in question is not the Hampshire town but a former village near Orpington, now part of the London Borough of Bromley. Fox & Sons were located in Green Street Green. They opened their brewery in 1836 and by the middle of the century were successful enough to build housing for their employees in nearby streets. The brewery closed in 1909 and would later be used as barracks in the First World War.
That history suggests a very early date for this Hither Green ghost sign. Any frustration at its being so worn is replaced by admiration for its surviving at all!