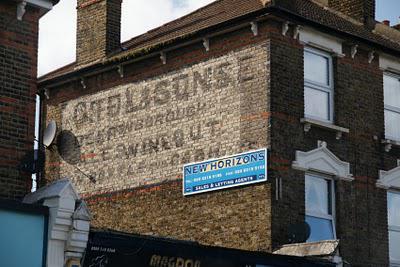 I was returning from the crime fiction event at Lewisham Literary Festival when I spotted this sign on Hither Green Lane. (Books, tea, cake and a ghost sign: the perfect afternoon!)
Two adverts have been painted on the same spot, both in black lettering, which makes them rather difficult to decipher. One appears to be headed 'Off-licence' with the words 'beer', 'wines' and perhaps 'spirits' arranged diagonally underneath. The other has 'agents,' alongside a heading which is I think 'Fox & Sons'. Below that is a word ending 'nborough', then 'Ales Stout' and finally 'In bottle and cask'.
It seems clear, then, that there was an off-licence here for some time. However, who they were agents for (perhaps the mysterious 'nborough') is no longer apparent. If anyone can shed any light on this, I'd be very grateful!