Piccadilly in York is less fancy than its London counterpart, but full of interest. If you look carefully, you can even spot the large and bright ghost sign for Foxton's Garage. The reason that care is needed is that the sign is now facing a hotel wall!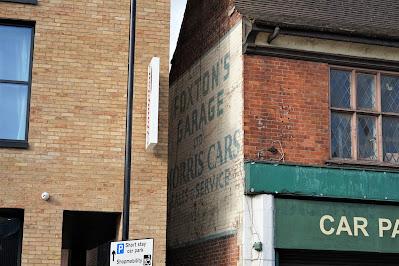 Foxton's Garage was here from the 1930s until 1975. Old photographs show a different version of the sign, so it post-dates the 1930s: back then, 'Saloon Buses for Pleasure Parties' were being advertised. 

The current sign says 'Foxton's Garage Ltd. Morris cars sales and service'. Its light blue lettering and cream background have survived, looking relatively fresh, thanks to being covered by other buildings until 2019. It was exposed again when the nearest buildings were demolished, and immediately attracted attention and calls for it to be saved. Sure enough, it has survived - even if it does seem to be hiding shyly behind the hotel next door!