First, the Bile Beans ghost sign in York has been repainted. It had already been painted in the 1980s, a restoration which was controversial at the time. That controversy has now been reignited: York Stories has an excellent account.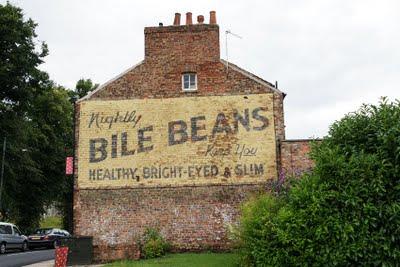 Second, Liverpool Ghost Signs was published on Thursday. It's the first book about British ghost signs, so I've ordered my copy! Sam Roberts has interviewed the authors, Caroline and Phil Bunford, on his Ghostsigns blog. (He also wrote the foreword.)
Finally, Sam's own book has just been published. It looks at the Hand-Painted Signs of Kratie in Cambodia, where he has lived for several years. This book is a fascinating insight into the style of the signs and the process of producing them; it also analyses their wider context in the history of the city and the country. Well-illustrated, it's a wonderful exploration of the advertising culture of Cambodia, and gives an international perspective to hand-painted signs.