For this month's ssshhhh secretly cooking the theme chosen was Millets. I was paired with Renu Agarwal Dongre of cook with Renu. She gave me foxtail millet and salt as secret ingredients.
Foxtail millet is the second most widely planted species of millet and the most grown millet species in Asia. In tamil Foxtail millet is known as Thinai. It has been a staple diet among people for a long time from the sangam period. It is referred to often in old Tamil texts and is commonly assocaited with Lord Muruga . It is a famous offering to Lord Muruga during Pankuni Uthiram and Kandha Shasti as Thaenum Thinai mavvum meaning honey and foxtail millet flour.
Foxtail millet is rich in fiber and is a good option for weight loss and diabetics.
I made foxtail millet Vangibath . It is same as the vangibath , used foxtail millet instead of normal rice.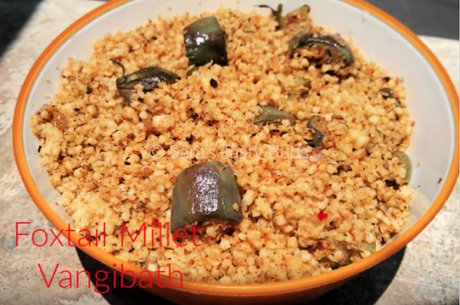 Requirements:
1 cup Foxtail Millet
6 small tender brinjal
one onion chopped
salt to taste
one tbs vegetable oil
Half tsp mustard seeds
A sprig of curry leaves
5 Dry red chilli
2 tbs coriander seeds
1 tbs Bengal gram Spice powder :
1 tsp cumin seeds
3 cloves
1 small cinnamon stick
1 cardamon
Half tsp pepper corns
2 tbs Dessicated coconut
Wash and soak the foxtail millet in water for fifteen minutes.
Dry roast chilli , coriander , bengal gram separately.
Dry roast cumin seeds , pepper corns ,cardamon , cinnamon stick , cloves together till the aroma comes.
Add the dessicated coconut , give a quick stir and switch off the flame.
Let these dry roasted items cool and grind into a coarse powder.
Cook the foxtail millet with 2 cup of water in a pan or kadai.
The foxtail must be grainy and not mushy.
Let the cooked foxtail millet cool , give a stir to prevent lumps.
In a pan , heat the oil , add mustard seeds and let it splutter.
Add chopped onion and curry leaves .
Add in the chopped brinjal and give a quick stir.
Add the required salt and close with a lid and cook the brinjal till it is tender.
Now , add the vangibath powder and give a quick stir.
Mix in the cooled cooked foxtail millet and stir well.
Cook on a low flame for five minutes.
Foxtail millet Vangibath is ready to serve.
Serve with Curd pachadi.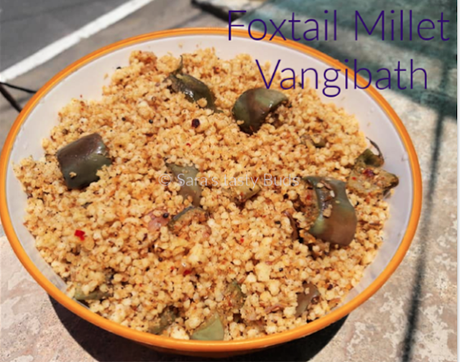 Notes :
I didn't add tamarind paste , if you want to add can add it while the brinjal is cooking.
Peanuts can be added while tempering it gives a crunch while eating.
Lemon Juice can be added after switching off the flame.