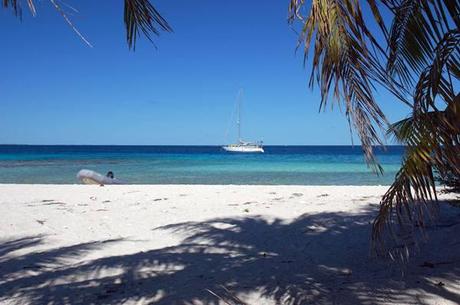 This is the goal: an anchorage in tropical paradise. Tuamotus, French Polynesia
Anchored in clear turquoise waters of an idyllic atoll in the Tuamotus, we met a young Dutch family on a sabbatical cruise from Europe to Australia. Their home was a proven blue water boat which carried the couple and their  growing family across two oceans. Their two year journey held the common cruising mix of friends, adventures, and routine maintenance- along with the less typical "cruise baby" addition.
In Australia the boat was sold to an enthusiastic couple, eager to begin their retirement with dreams of cruising the world. No surveyor can be an expert in every field, but the prior owner's disclosure that the engine was in need of servicing might have suggested a closer look by a trained professional to evaluate requirements.
Not long after the deal closed, the engine quit as the new owners backed out of the slip for the first time, and they had to be ferried back to the marina by neighbors on the dock. Engine repairs were hired out but additional recommendations went neglected. At the same time, they embarked on a number of concurrent projects to adapt the boat to their desires: discretionary work ranging from plumbing upgrades to new canvas – and all hired out. A few months later, a trip up the coast to a sleepy harbor illuminated further engine issues that couldn't be ignored. In a matter of months, with ongoing engine repairs, their cruising funds were so severely depleted that they abandoned their intention to depart for lower latitudes and instead went job hunting in one of the most expensive cities in the world, their cruising adventures reached just 50 miles from the slip.
It's a common experience to hemorrhage money during the lead up to cruising. The term BOAT bucks (Bring Out Another Thousand) was doubtless coined through the chagrined repetition of wallet fatigue by many a boater. Weekend and vacation cruisers in Puget Sound are just as susceptible as cruisers: Jamie and I had a habit of loading up with "essential" purchases during the weeks before a big summer vacation cruise in the Salish Sea. In hindsight, few of those were necessary. The perspective of what's important changes once you're able to get off the dock and get comfortable with your own boating style- not someone else's style, not the one you read about in a magazine or a book, but yours. Then very carefully wash that wish list of things you'd like to do against the list of things you need to do. Remember that many cruisers have purchases they would take back in favor of having that cash in the bank to feed further adventures instead.
Another one of our mates in Sydney was preparing to cruise up to Indonesia and spend time island hopping in Southeast Asia. Articles about unsurveyed areas and murky water around river outflows and illuminated the risk of going aground convinced him that side-scan sonar was essential gear for safe anchoring. A cursory look at his boat's standing rigging suggested there were more fundamental needs to address. After a few BBQs spent convincing them of real priorities, the boat now has a dependable rig; and they are putting miles under the keel before deciding wither it's worth investing months of cruising expenses to add a sonar as well.
In the last few months, we've helped a number of would-be cruisers evaluate brokerage listings or consider the equipment they should have on board. Everyone wants to know: "what do we need?" When precious cruising kitty dollars are at stake, it feels risky to step into a major purchase without really knowing the answer to that question. Speculation is fed by the lure of the latest gear in shiny ads, by the old salt down the dock, and by magazine articles of poster cruisers describing their choices– all of which tend to feed areas of discretionary spending, but not necessarily the real needs for a sound cruising boat.
Most cruisers have tales of the overrun in their budget to outfit or refit their boat. The pool of funds set aside can dwindle far more quickly than expected, as it did for our friends in Australia. As soon as cash goes out for wants instead of needs, new owners risk starting down a slippery slope that eventually can keep them tied to the dock instead of out exploring the islands.
It's important to know the real condition of what you have, then decide what you can live and what you need to adapt- whether it is for safety or for your own personal style. When we bought Totem, one of the first things we intended to do was replace the headliner and resurface the galley counters. Both were worn, stained, discolored, and original to the 1982 boat. They were atrocious. Unfortunately, they still are atrocious. But choosing to spend money on those and other projects were sidelined as discretionary expenditures, and more fundamental needs to the boat were addressed instead- the ones we knew about at purchase, and the surprises that cropped up during our early months of ownership. Totem's windlass functioned flawlessly during the survey, but promptly crumbled after we took ownership: a nice coat of paint obscured the deteriorating mechanics within.  Yes, I would really like to have a pretty galley, but I'm happier to have a rock-solid windlass, among other higher priority items that keep us going.
Keep in mind that one person's discretionary spending is another's essential investment. Your partner may have a different idea of what's important to make the boat a secure and comfortable home. If you'd like to head off into the sunset together and find that your idea of sufficiently meeting needs aboard is their concept of awkward camping, it could be a much shorter cruise than desired. Consider getting off the dock for extended periods of time to work out what bubbles up to the top for both of you. The list of things you need to do may have some surprising changes that make a meaningful impact on your comfort and quality of cruising as well as your freedom to stay out.
This is not intended to advocate for hard core, bare bones cruising with no refrigeration, no engine, no autopilot or self-steering – or against it. Far from it. That's just one style. Before deciding if it's your style, too, take time to balance the vision with a dose of reality. More importantly, avoid letting what you think you need to go cruising create a domino effect of spending that prevents you from going at all.
Jamie and I co-author the monthly cruising column at 48° North, a Pacific Northwest regional boating magazine. This is our article for the August 2013 issue, but if you're a sailor, you'll probably enjoy getting the full edition of 48° North - available free online from their website.