I'm not getting married. I did that seven years ago.
Nah, I'm just a little stressed out because at the end of April we are heading to Upstate New York for my brother in law's wedding.
Little M is the ring bearer and has his mini tux all sorted. To be honest, I don't think he will walk down the aisle alone. He tends to get shy around people and having a church full of faces staring back at him isn't going to go over well with my little fella. Not sure what Plan B is but we'll see closer to the date.
But the bigger dilemma here his WHAT THE HELL AM I GOING TO WEAR?! No really. I haven't been to a wedding in......eight or nine years and even then it was a very simple wedding and I wore a dress I had in my closet.
But this time I want to look GOOD and find a dress that stands out and looks just right on me. I have a few boutiques in mind to find a dress, but my main problem area are my bingo wings! Oh Lord!
 I got used to living in the UK where I could wear a sweater or cardigan all year round. I don't think I ever really exposed my arms in all that time. But now, well, there's no hiding them.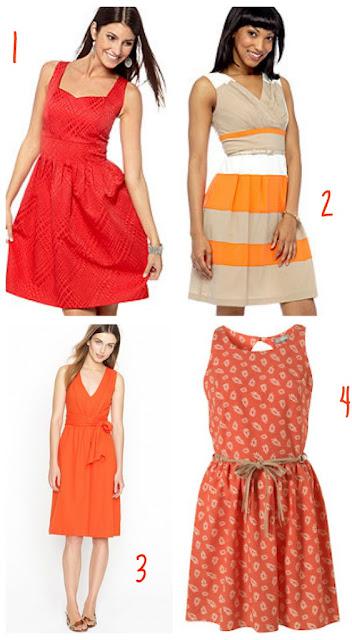 Thinking of tangerine!
1. Belk: Tahari ASL Jacquard Sundress 2. Belk: ND Colorblock belted sundress 3. J Crew: Elinor Dress 4. Topshop: Coral Daiy Crepe Open Back Dress by Love


There are several things I need to do before the 21st of April and I need some guidance please! 


1. Find some weights and start toning the arms - every little bit helps. I can't have my arms flapping around on the dance floor! Believe me, it's not a pretty sight and I've hidden them well...until now. I saw the Kettle Balls at Target, but not sure how effective they are or if I should stick to traditional weights. What has worked for you?
2. Get my hair cut and colored - my hair desperately needs some serious love. Last time I had my hair done was in Chiswick right before coming back to the US. That was FIVE months ago. My roots are screaming for a touch up. Any fab salons in the DC area that won't break the bank?
3. Then I need to get some color. To spray tan or no spray tan? I'm not talking Jersey Shore look like Snooki style tanning, just a hint of tint so that my arms and legs don't blind anyone. I've never had a spray tan, but thought it could work well. Thoughts??
4. Find a smoking dress! I want color, I want it to scream "SPRING IS HERE!" I've been seriously crushing on tangerine and found a few styles. Are they "weddingly" enough? And it has to be budget friendly. I'm talking no more than $150, but even that's too much. I'm stuck for new places to shop.  Ideas please!!
5. Get amazing shoes that look great and won't destroy my feet. Also bright, colorful and open toed. Suggest away!


So that's what I'm getting ready for right now. I am still doing Medifast and losing weight so I will buy the dress closer to he date, but trying to scope out some good places.
Please all you lovely people, let me know your suggestions and if you are a brand yourself, don't be shy and let me know what you have so that I can check it out!