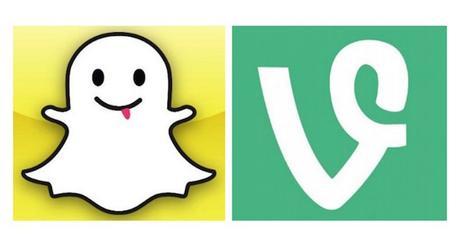 November 3, 2015
0

Email This Post

Print This Post
Getting Visual with Vine and Snapchat
With so many options for visual marketing through social networks these days, the challenge for marketers is how to determine which ones are right for your business.
There are a handful of major social networks that should be considered in any integrated marketing mix (Facebook, YouTube, Twitter, LinkedIn). But how many more can or should you include? The answer usually depends on your ability to manage them, as well as the type of audience you're trying to reach.
Three of the more recent visual social networks gaining prominence are Instagram, Vine and Snapchat. Although they overlap in certain areas, each requires a different approach to be effective, and each has its own community of users.
Instagram went mainstream after being acquired by Facebook, and is now starting to integrate paid advertising into the user experience.
Since Snapchat and Vine are less well known, what follows is a brief description of what makes these two emerging social networks unique, according to marketing experts interviewed in Mashable.
Snapchat
Who could have predicted that an app featuring short videos made to disappear as soon as they're seen would catch on? Snapchat is not a platform that's designed for reach, nor is it conducive to traditional marketing messages. In fact, Ian Schafer of Deep Focus believes the app is not designed for marketers at all. "Snapchat is probably for their kids."
Schafer points to Taco Bell as a good example of how marketers can effectively use Snapchat to connect with consumers. It also helps that Taco Bell understands its audience, which happens to overlap with Snapchat's user base.
Best Use of Snapchat:
Keep it real, as well as playful. Share candid or behind-the-scenes moments that users can't get anywhere else.
Taco Bell has learned to speak in the vernacular of its audience, says Schafer, which has been a key to its social success.
Reasons why I enjoy being friends with Taco Bell on snapchat pic.twitter.com/2jFY3A7jGb

— Nick (@Nick_A_Gonzo) July 2, 2014
Vine Introduced by Twitter, Vine is an app that features :06 videos that loop. Vine videos are often humorous and sometimes look deceptively simple. Don't let that fool you, though. It can take hours or days to create the popular stop-motion videos produced by top Vine influencers. The best videos on Vine, according to Josh Engroff of The Media Kitchen are specifically created for the format. "Don't take a 15-second spot and cut it to 6 seconds." The Best Use of Vine: Create surprising, memorable videos that are interesting in their own right, regardless of the brand. Look for opportunities to tie in to real-time events, since Vine is integrated with Twitter. Nike used Vine to tie into the World Cup match, which many of its customers follow closely. Notice how the Nike clip cleverly uses the Vine loop effect.