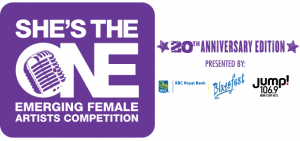 She's the One
In just a matter of days the top 10 finalists for Ottawa Bluesfest and JUMP 106.9's She's the One will take to the stage at Bluesfest's Barney Danson Theatre to compete.  Jheo Navarro is the 5th of the 10 finalists we will be featuring so that you can get to know each of the finalists a little bit better.
Jheo Navarro is a 14-year-old pop and R&B singer/musician and songwriter from Mississauga, Ontario. Jheo has been performing since the age of six and continues to perform at various functions and events around the Greater Toronto Area. Her biggest break came when she won Grand Champion of the 2013 Long & McQuade singing contest in the juvenile category. Recently, Jheo performed at the "Talent Nation Toronto" in front of a sold-out Danforth Music Hall. She was also a second-place winner at the 2012 "Hidden Talent Toronto" singing contest in the all-ages category. Jheo was honoured to sing the Canadian Anthem, as well as an inspirational song at the "Damon Allen" quarterback challenge. She was one of the performers at Toronto Youth Day 2013.
We caught up to Jheo recently and asked her 20 questions so that we can get some insight into the person behind her music.
20 Questions with Jheo Navarro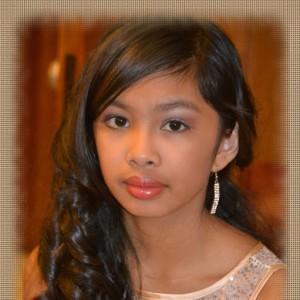 Jheo Navarro
SC: Firstly congratulations on being selected as one of the top 10 for the RBC Bluesfest She's the One Emerging Female Artists Competition. RBC Bluesfest was ranked one of the top 10 music festivals by Billboard Magazine.  What was your reaction on being selected into this elite event?
JN: First of all I would like to thank you for your time and for giving me the opportunity to be interviewed.  And to answer your question, I was so happy and I can't believe it



 . Actually, it was the last day of submission when I registered. I was at the studio when my mom told me the news and we were both excited. I thought I did not make it because it was a month already and heard nothing. Wow, it is an honor to be chosen as one of the Top 10 artist to perform at the She's the One finals, with all the numbers of talented young artist who auditioned in different parts of Canada. I'm so thankful and blessed to be one of them and I am looking forward to meet the other talented artist at the finals.
SC: Every artist I've spoken to has a story about how / when they decided to pursue music as a career. We know that you started in music at a very early age, describe the moment that you knew that music was the path for you and what inspired you to take that path.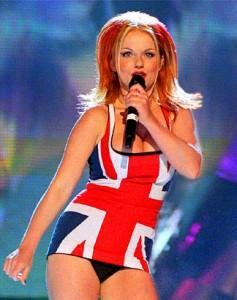 Geri Halliwell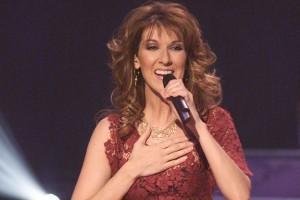 Celine Dion
JN: First, I give credit to my parents/family for being supportive with my passion since I was a little kid.  They are always been at my side, helped me build up my career which I am very thankful.  They are my inspiration to continue what I love to do.  My parents told me that I was barely 2 years old when they witnessed my talent. They said I grew up watching MTV's of Spice Girls and one of my favorite is Geri Halliwell (Ginger Spice) and copied her singing and dancing "It's Raining Men"

.  Also Celine Dion's "My heart will go on" and "To Love You More" are songs that I memorized by heart, I was singing in karaoke inside my crib holding a microphone as if I know how to read by that time.
SC: It seems like a big thing in the music business today is collaborations. Name any three artists that you would like to work with?

The Ready Set
JN: I'm a big fan of Christina Aguilera and Celine Dion, they are great inspirational artists that I have looked up to as I was growing up.  I also like "The Ready Set".  Hopefully I will be given the chance to work with anyone of them.
SC: For most stepping out on a stage to face hundreds, perhaps thousands of fans can be a bit intimidating. What's that like for you? Do you still get butterflies or does it inspire you to put on an even better performance?
JN: It's always fun to have that adrenaline rush right before performing, it's more exciting and I know stage is where I belong.  And also for me, it is a sign of sharing and giving my all and best performance.
SC: This is where we normally ask what the defining moment has been in an artist's career to date. Your career is still taxiing down the runway ready for takeoff.  Has there been a moment, to date, that sticks out more than others, that reassures you that music is the right path for you?
JN: Many opportunities have appeared throughout my career and many of them are signs. The latest was when I won the Long and McQuade singing contest last year (for Juvenile category) here in Toronto, which open doors for a lot opportunities for me.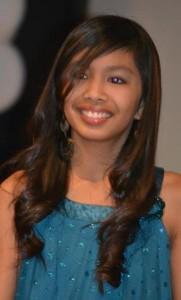 Jheo Navarro
SC: What's your all-time favorite movie?
JN: Ummm a lot but love The Avengers :-) I always enjoyed superhero movies.
SC: Your ideal brain food?
JN: Chocolate

, but need to keep to a minimum. I have to make sure it will not affect my voice, especially if I have an upcoming performances
SC: Favourite Restaurant (anywhere in the world)?
JN: The Keg and of course Saucy Kytchen where I always go for lunch with my friends at school once a week, like a treat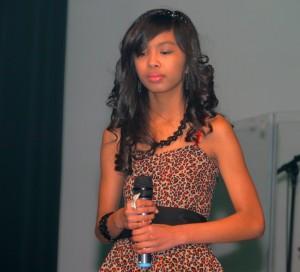 Jheo Navarro
SC: Favourite TV show (all-time)?
JN: Adventure Time but I prefer anime
SC: If you could see any artist in concert, who would you see (living or dead)?
JN: I am a huge fan of Michael Jackson, love his music.
SC: iPhone, Android or Blackberry?
JN: iPhone, I have one of my own.
SC: Can you talk about a fan encounter that completely took you by surprise?
JN: I've had some experiences where people would come to me.  There was a time when me and my mom were at the mall and someone came over, recognized me from a previous performance.  She asked for my autograph and also to take pictures with them.  It was a flattering moment for me and it inspires me more to continue my passion with music.
SC: What are your family member's musical interests and abilities?
JN: My parents love listening to music.  My dad have a good ear and helps me working with the songs I'd like to sing and also guide me with my vocal exercises.  I grew up listening to different kind of music and both sides of my parents are singers and artist back home.
SC: Name a fictional character most like you?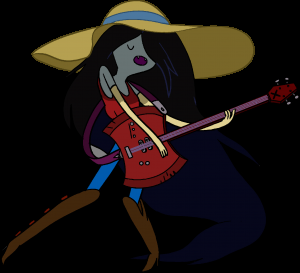 Marceline
JN: Marceline – from Adventure Time, she is a singer, songwriter and a musician. :-) Like ME! 
SC: In "Jheo Navarro, Story of My Life" – The Movie, who would play you?
JN: I don't know and can't think of anyone, but I hope someone who has the same passion and dreams like me.
SC: Star Trek or Star Wars?
JN: Star Trek
SC: Stress management: hit man, spa vacation or Prozac?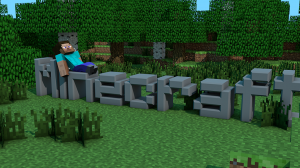 Minecraft
JN: Spa Vacation, or I'll play my instruments (piano/guitar) and write new songs.  And sometimes watch anime or play video games :-) I'm a Minecraft fanatic.
SC: You've been competing in and having a lot of success in singing competitions for the better part of 10 years, and yet you are only 14. What are your plans if the success continues with She's the One?
JN: If the success continues, I wish to be able to start my career in Los Angeles and meet those artists that inspired and influenced me.  But of course, whatever happens with She's the One, study is my first priority and with the opportunity coming along, I will do all my best to succeed and pursue my ultimate dream to become a professional singer/songwriter someday.
SC: Music / celebrity and charity tend to go hand in hand. Artists use their star power to generate awareness for their chosen charity. Is there a charity that's close to your heart that you would like to see get more support? 

Youth Without Shelter
JN: My family are supporters of Sick Kids Foundation and I do guesting at some fundraising/charity and churches events in the community as well. Also I have a show coming in August for "Youth without Shelter", another fundraising event. I am also a supporter of Red Cross, as it was one of the charities that helped the victims of Typhoon Haiyan in the Philippines where I did some fundraising.
SC: What's next for Jheo Navarro?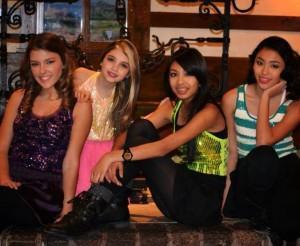 Sparkle
JN: Aside from the preparation for "She's the One", after that I'll be busy doing my solo and guest performances around GTA, Youth Day Toronto, Honey Jam Showcase and "Youth without shelter" fundraising event.  In between, I'll be back in studio working for my original songs.  And I have this Girl pop group currently named "Sparkle" that former Canadian Idol Judge Zack Werner put together.  And we are also in the middle of completing our music CDs. I would also like to take this opportunity to thank Zack, not only as my mentor but for all the support he's giving me on my chosen career.
We'd like to thank Jheo for taking the time out of her busy schedule to answer our questions.  We wish her the best of luck, not only in Saturday's competition but also in the rest of her career.  We look forward to hearing more from Jheo as her career takes off.
Checkout Jheo's Facebook page for more on this talented young lady https://www.facebook.com/jheonavarro.  Naturally we'll be following her career and will be posting updates as they come available so be sure to keep checking back!
Here's Jheo's cover of "How Great Thou Art"