We were first introduced to Brad and Marylynne Stella at Boots and Hearts in 2013, their on-stage chemistry was captivating and we were hooked. In 2015 they're on tour, have an album coming out and you will, again, see them at Boots and Hearts this August.
The Stellas are currently on a five city tour of Ontario playing at intimate venues in Ottawa (Maverick's), Kingston (The Mansion), Peterborough (Red Dog), Toronto (Hugh's Room) and Hamilton (HECFI Studio at Hamilton Place). Our guest writer Mary-Rae had the pleasure of speaking with the duo on the tour bus before the Kingston show March 25th.
Sound Check: Since we last met you have made your first appearance on the Grand Ole Opry. I listened in to the show. How was that?
Brad: You did? Thank you. It was overwhelming. We played on the Ryman stage, which made it extra special, as two months a year the Opry is back at the Ryman.
Marylynne: Emotional, Unbelievable. We received a standing ovation.
Sound Check: Brad, I heard that there were tears?
Brad: Yes, I couldn't sing the last chorus as I was crying. It was pin drop quiet as we sang "It Wouldn't Be This". The lights were up so we could see the audience and people were crying.
Marylynne: I cried too.
Sound Check: You mention "It Wouldn't Be This". That is also the title of your new album. It is "your" story, isn't it?
B & ML: Yes, it is. The album drops on May 4th which is our 20th wedding anniversary. Several of the songs on the album we co-wrote with Fred Wilhelm who is a great fit for us musically and lyrically.
Sound Check: Will you be touring following the release of the album?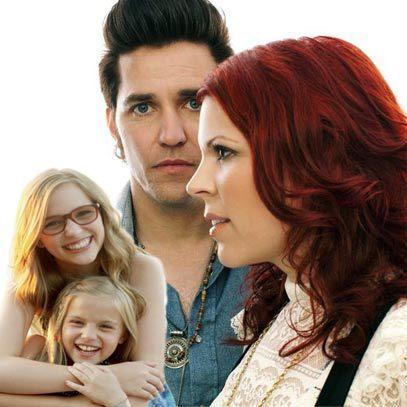 B & ML: We will be at Boots & Hearts on the Saturday night and will be bringing our daughters ( Lennon and Maisy). We will be heading to the UK opening for the Zac Brown Band. While in the UK we will break off and do more dates with our daughters. This mini tour was because we wanted to be back on stage and sharing our excitement for the new album.
Sound Check: You mention your daughters, Lennon and Maisy. I recall years ago when you talked about watching your girls in the back seat of your car as the four of you drove to Nashville from your Ontario hometown. Now Lennon and Maisy are part of the hit tv show, Nashville, and seem to be everywhere. How do you keep up?
Marylynne: Both Brad and I, or at least one of us, goes with them wherever they appear. We only do shows that make sense. We turn down a lot of requests.
Sound Check: They were in Vegas and at Fashion Week.
Marylynne: Yes, places they will have fun. Lennon is a fashionista and loved Fashion Week.
Sound Check: Can there be regular family time?
Marylynne: There has been a drastic change. It was our tradition to eat dinner together every day but it is challenging now as we are on set or travelling. I always go to the set with the girls. Until January Lennon and Maisy were in public school and with a tutor on set. But, as of January they are enrolled in online schooling. They can do the work at their own pace and from anywhere. It is working well.
Sound Check: Tell us about a day in your life in Nashville.
B & ML: We have an entertainment company called "Back 40" for all four of us. A very talented person, Genevieve Jewell Thompson, works with us. Genevieve was named in the Top 30 under 30 Music Executives in the world.
Brad: I go to our studio/office on Music Row and write songs, produce records, including for others too. Genevieve and I manage The Stellas.
Marylynne: I am on set at Nashville. I co-manage Lennon and Maisy with Genevieve.
Sound Check: Nashville has become a very popular show and has a great following in Europe as well.
Marylynne: Yes, and their hiatus from taping is very busy. The cast are going out on tour this summer so we will be going with the girls. Lennon and Maisy also have their book release coming up.
Sound Check: Now, for the question all Nashville fans would like answered. How did Maisy break her lower leg? And will that break be worked into the plot of the show?
Marylynne: She was in a fun zone, came off a slide, and landed with her legs crossed and fractured two bones. It won't be worked in to the plot. For now her lower body is hidden behind furniture or a body double is used. There are only a couple more shows to tape so they will just work around it.
Sound Check: Thank you for your time. It has been a pleasure to catch up on your life. See you inside at the show.
If you want to learn more about The Stella's be sure to check out their website: www.thestellasmusic.com. As Brad and Marylynne mentioned their new album is called "It Wouldn't Be This", it will be available everywhere on May 4, 2015. You can purchase the title track on iTunes now.
Checkout the video for "It Wouldn't Be This" released earlier this week!

Mary-Rae Knapp is a lifelong fan and friend of Canadian country music from Athens, Ontario. She is the chair of the Joshua Bates Centre Performing Arts Committee for which she manages artist bookings and relations.