Before I left, I joked many times that I could possibly be the world's worst traveler; bad things seem to happen to me and bad luck seems to follow me.
After a couple of weeks of being sick, the airline losing my entire bag, and worrying that my plane was going to plummet to the ground, I came to the realization that I wasn't exactly enjoying this nomadic lifestyle. If I hadn't already spent a staggering amount of money on Antarctica and Africa, I may have even given up and gone home.
I didn't have much in the way of expectations when I dragged my weary body to the Galapagos Islands this week. I'm happy to say being here though has completely changed my outlook on travel, if not my entire outlook on life.

Everyone Said I Had to Go to the Galapagos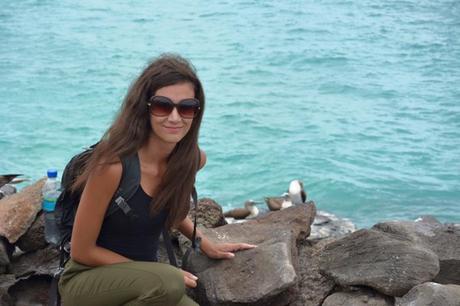 I planned my trip to the Islands almost a year ago because everyone said you have to go. While I don't normally care to do what everyone says I have to, I had a bunch of air-miles to use and could score a round-trip flight for practically nothing. I'm very happy to admit that this ever-present "everyone" was completely right.
I've been spending my days on the oldest island in the archipelago, San Cristobal. Basing myself in the main town of Puerto Baquerizo Moreno, I've been all over the island exploring and falling in love. While the island is mostly full of elderly tourists that seem to explode from the cruise ships that make their way around the main islands, it is also teeming with the most wonderful wildlife.
Adoring the Sea Lions and Tortoises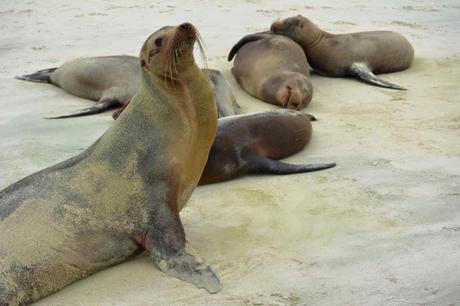 The town is overrun by playful sea lions; seriously, they're everywhere. I was sitting on a bench watching the sunset one evening when one just hopped up alongside me and took my croissant. We've been warned by the hotel staff that while they're adorable and absolutely ridiculous looking, they can be quite a bit aggressive, so I chalked up that loss and left him to his French dinner.
You could easily spend all of your time watching them get into their various antics. Along the beaches, the parent sea lions sleep all jumbled up amongst one another, rather peacefully. That is until one of the various babies makes a grand show of leaping about on top of them, crashing into different sea lions, waking them all up and starting fights among the adults. It's quite comical.
While the sea lions make me happy, the giant tortoises make me ecstatic. I made my way out to the island's Interpretation Center on my second day there to learn all about them and how Charles Darwin began to formulate his theories on evolution.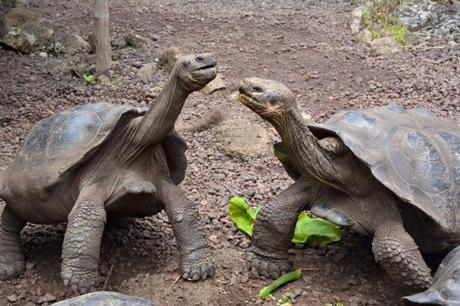 The next day I set off on a tour of the island's highlands, but most importantly the Galapaguera de Cerro Colorado: the giant tortoise reserve. It's twelve hectares of space for the giant beasts to roam freely in a protected reserve. I let myself through the gate and was almost immediately accosted by one of the giant reptiles. They definitely aren't shy; in fact, they get quite aggressive hissing at you. I did not know tortoises hissed before that visit.
I arrived at a great time, early in the morning, when they were being fed. Watching them hiss and ram each other over scraps of lettuce was rather hilarious. I've never wanted to fight someone over salad, but to each their own.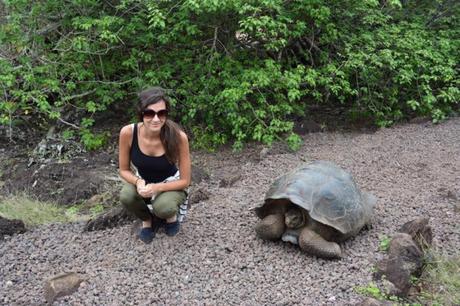 The center also boasts a breeding center and watching the baby tortoises clamber around was endearing. I was lucky enough to have a guide follow me around the park explaining the various ages of the tortoises and interesting facts about both the animals and the local flora and fauna. Apparently pondering aloud if you could fit one of the smaller tortoises in your backpack means you get your own personal guide.
While you aren't allowed to touch the tortoises, they are very used to human interaction and will come very close to you without hesitation. Occasionally, they will even chase you, which can be quite embarrassing.
My Love of Travel is Back
While I was only there for a couple of hours, I'm happy to report that the tortoises brought back the love of travel to me. I was disappointed that I was unable to dive with hammerhead sharks on the island until my ears clear up, but I am definitely on the mend and cannot wait to get back to some adventure on the mainland next week.
Time to get back to trekking through this adventure.