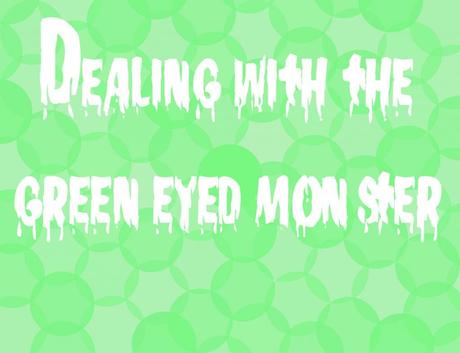 I have to admit that sometimes, no matter how hard I try not to, my admiration for other creatives can slip into jealousy. This usually happens when I'm feeling a little low or deflated about my own creative output. It doesn't happen often, but when it does I try and deal with it quickly. Here are a few things to remember that may help to stop the green eyed monster in its tracks.
Full time.Many successful creatives out there do so well because it's there full time job. I work full time, write for two blogs and wish to have a life. It's silly to compare myself and my output to those whose livelihoods depend on their creative success. I am happy with my work / life / creative balance at the moment and need to focus on the right output for me.
There will always be someone better than you.It can be a hard fact to face, but with so many people creating amazing work there is always going to be someone better than me. I have to realize this is a good thing and concentrate on making things to the best of my ability. All the other creations I perceive as better can be used as inspiration, or I can add their lovely items to my birthday / xmas wishlists.
Overnight success is a myth.Sometimes it can look like someone has become successful in a very short space of time and this can give the impression that they haven't worked hard for it. If this was the case their success wouldn't last because there wouldn't be the work ethic to maintain it. I know how much time it takes coming up with new ideas, making things and posting out my small amount of orders. For anyone running a very successful business this time and effort would be x100! So, they may make it may look like a breeze, but there's a whole load of hard work going on behind the scenes to keep up that professional brand image.
It's who you know.Yes, sometimes knowing the right people can be incredibly helpful. Others may have people who can offer money, help with promotion, website design, etc. This can make it look like they're getting a head start, but it's important to remember that I also have people in my life who can help me. It might not be in the same ways but it all makes a difference.
Everyone feels the same.The jealousy bug can hit anyone and, at times, everyone feels down on themselves and their work, even the people who I view as successful. I've read a number of open and honest blog posts from creative folk to prove this is the case. It's important to remember that, take the energy that can manifest as jealousy and use it to improve what I do. Failing that, I need to take a break. Stepping away from the online world, with all its images of amazing creations, and relaxing for a bit always helps to give some perspective.