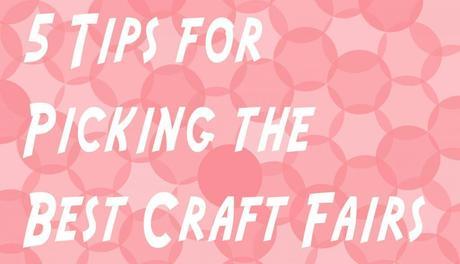 It's been quite some time since I've had a stall at craft fair. There was a period when I was doing them regularly and I've experienced of a number of different events from across Scotland. After doing Pitch n Strike earlier this year I had meant to get involved with some more, but am only just looking into it now. What with so many going on it can be a struggle to choose which ones to go for so I've tried to remember a few tips from back in my craft fairing days.
1. Try before you buy.If yo can, go along the the craft fair as a customer before shelling out any money for a stall. This is a great opportunity to have a look at what type of stalls are there, what the table space is like and what type of people are visiting the fair. It gives an idea of how your own wares will fit in and if it's attracting your target customer.
2. Think about the cost. All of it.The first cost to look at is the fee for the stall. This can sometimes (but not always) give you an idea of how successful the craft fair is likely to be. Bigger fairs will usually charge more as they often bring in more customers or are in a more prime location. But don't ignore cheaper fairs, paying out a smaller amount can mean less risk and can be a good way to start out (or get back into, in my case). Whatever the price of the stall fee it's important to remember that it's not the only cost involved. Make sure things like travel, accommodation and food costs are considered as well as the time you will need to put aside to prepare.
3. Seller feedback.Do you see the same sellers appearing every time the fair is held? This is a good indication that the fair has been successful for them. If what they are selling is appealing to a similar customer as your own products then there is strong possibility that the fair will be good for you too. Obviously this only works if the event is a recurring one. If it's a brand spanking new fair, see if you can find out who else is applying for it. If sellers you admire are giving it ago, it might be worth a shot.
4. Advertising.How did you hear about the fair? The more prominent the fair, the more likely it is to attract a good number of visitors. If there is a bit of a buzz about it on social media or you can't walk around without seeing a poster for it's looking good.
5. Give it a go.All craft fairs, even the ones where you only sell one thing, will teach you something. Some will surprise you and be super successful, while others will be incredibly disappointing. All will give you an insight into your customer and which products attract the most attention, as well as doing a little bit to get your name out there. The more you try, the more experienced you become in spotting the good ones and avoiding the bad. Most of all have fun, and use every fair as an opportunity to network with other sellers as well as with potential customers.