Kuya J's has long been in my Cebu Secret Chows list back when it was a little home restaurant in Capitol. It breaks my heart when a Cebu Secret Chow spot moves on to join the "commercial bandwagon" before I get to write about it as it was. I'm just selfish like that. However, at times, when it proves to be the right direction for them, I move on and feel happy for their progression.
Leaving its original nook in Orchid St., Capitol Site, Kuya J's has branched out to Escario St., SM City Cebu, and most recently, SM Consolacion. I was invited to their SM City Cebu branch last month but just the night before, I had dinner at their Escario branch for a high school reunion where I had a taste of their Crispy Catfish, Crispy Pata, Sinuglaw, and Baked Scallops. I enjoyed everything and was curious to see if the quality was the same in the SM branch.  Kuya J's in SM City Cebu took over the space that was formerly Goldilock's. The restaurant has a modern Filipino design and markedly comfortable seats. I was led to their function room to join the media and bloggers for dinner. 14 dishes awaited us, most of which were new on the menu, and these came simultaneously to our tables. Boy, were we in for a treat.For appetizers, the Chorizo Dinamitas, Lumpia Presko, Tokwa't Baboy,  Baked Scallops, Chicken Tagudtud, and Sinuglaw were laid out on our table. Whew! And that's just the appetizers. I don't know what will become of us if the number of entrees will exceed this. I'm not complaining though. I just feel sorry for the imminent leftovers.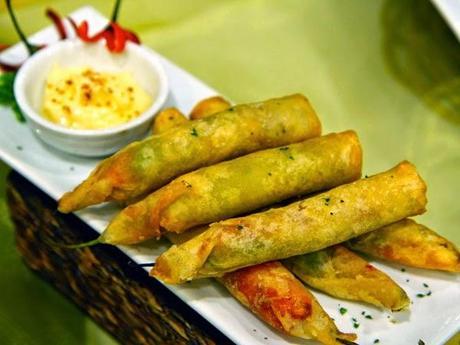 Chorizo Dinamitas
deseeded jalapeño with Cebuano chorizo & cheddar cheese wrapped in pastry wrappers, deep fried and served with garlic mayo dip
This would have to be the most interesting one. I don't normally fancy stuffed peppers but I loved the texture and flavors of this one - mandatory crispness from the pastry wrapper, heat from the chili that slowly creeps up your throat, creaminess from the cheese, sweetness from the Cebuano chorizo, and a welcome coolness from the garlic mayo dip. This is a must-order when dining here.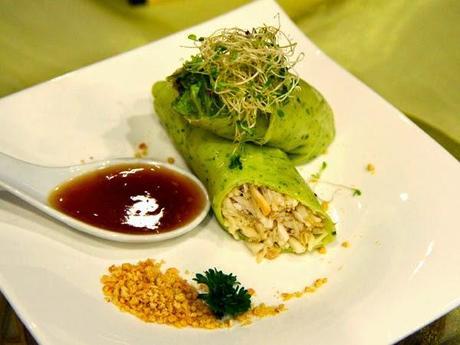 Lumpia Presko
sauteed crabmeat & bamboo shoots stuffed in malunggay-infused wrapper with sweet garlic sauce
This already healthy dish is made even healthier with their version of malunggay-infused lumpia wrapper. Indulge in this nutritious morsel to lessen the guilt of engorging in the Crispy Pata that follows… because it's almost impossible not to order that Crispy Pata when you're in Kuya J's. You'll see. ;)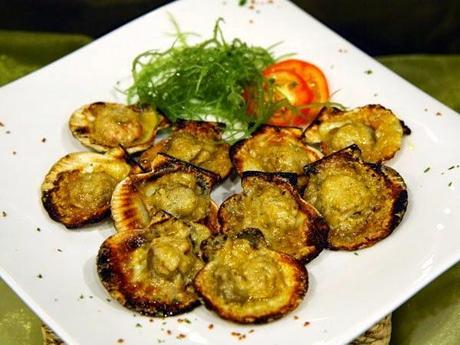 Baked Scallops
You can't go wrong with Baked Scallops. There's really nothing more to say. Just don't be surprised if these suddenly disappear just when they're served on the table.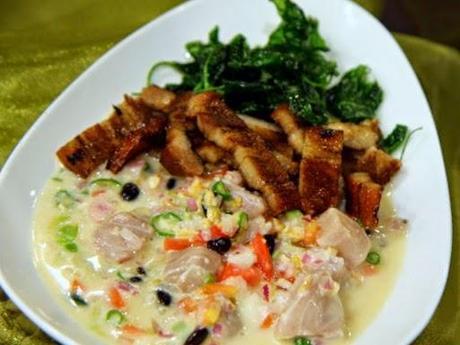 Sinuglaw
The invention of Sinuglaw, in my opinion, is a milestone for Filipino cuisine. Whoever first came up with this deserves to be honored for marrying two well-loved dishes - Sinugbang baboy (grilled pork belly) and Kinilaw (ceviche). When I had the Sinuglaw in the Escario branch, it won me over with its sauce and smoky, well seasoned pork belly. Unfortunately, I was disappointed with the one we had in SM because the kinilaw tasted off which signified that it wasn't fresh anymore. The pork belly was still as good though. 
Just as the appetizers were nearly wiped out, our table was amassed by the main courses…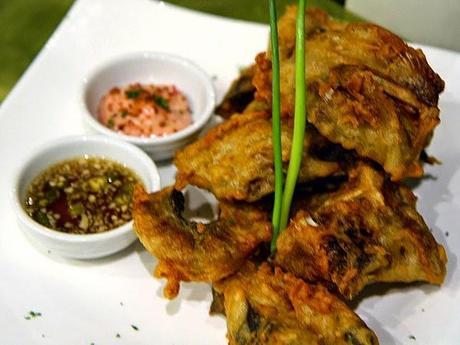 Crispy Catfish w/ tuba garlic vinegar and bagoong mayo
Ah yes, the Crispy Catfish - Kuya J's flagship dish. Everything about it was perfect, easily making it my favorite among everything. Catfish is known to be an "odorous" fish but this was perfectly eliminated by the preparation techniques involved in this dish. Savored with a dip in their tuba (coconut wine) garlic vinegar and bagoong mayo, you'll realize after several pieces that your hand has acquired a mind of its own - "once you pop, you can't stop."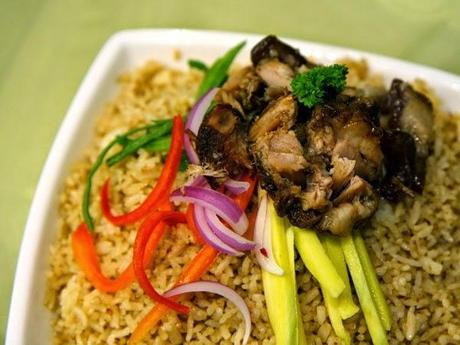 Humbagoong Rice
Bagoong rice is a default when I am in Thai restaurants. I love how the acidity from the strips of green mango cut through the saltiness of the shrimp paste. Filipino cuisine not being too far off from Thai, Kuya J's version was sneaky, the humba touching home base as the unctuous pork fat melts in the mouth.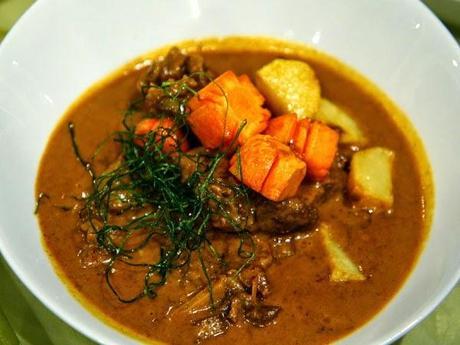 Beef Caldereta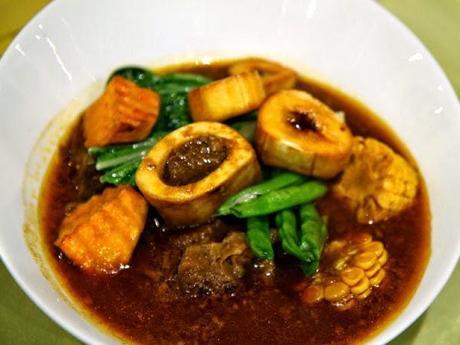 Beef Pochero Tagalog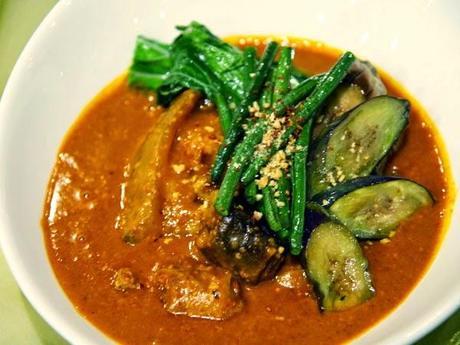 Kare-Kare
I have high regard for stews and braises (only when they're done right, of course) and especially adore the gelatinous membranes from their laboriously sitting on a stove. I was comforted by this trifecta of stews, finding them to be rich, succulent and most importantly, the meat and its membranes being in their desired gelatinous state. These are sure to appear on most if not all the tables of diners in Kuya J.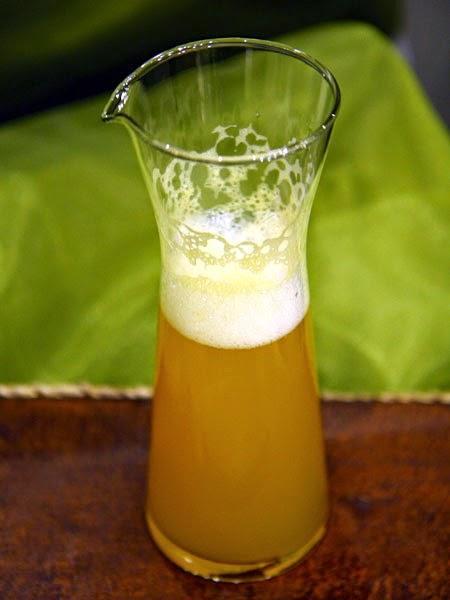 Dalandan Beer
All the while, we were also sampling their Dalandan Beer. I honestly don't like beer but this was a unique conconction. The dalandan provided a refreshing, zesty sensation with a hint of sweetness to the still apparent taste of beer. It's actually a nice match to the Sinuglaw and fried dishes.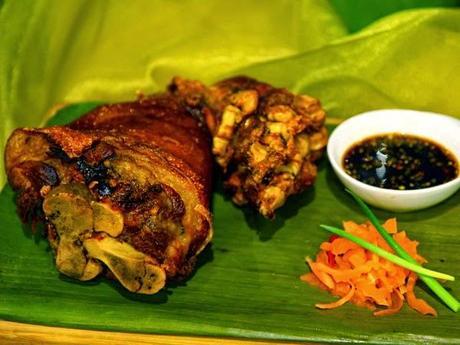 Crispy Pata
Oops, forgive me, I unconsciously ignored the Crispy Pata the moment those stews arrived. I already had so much the night before anyway. But... I eventually still took a pinch of some skin and meat, betraying myself. That tells you it was too good to pass up on no matter how much you've had it the night before. It was consistently tender, juicy, and the skin delightfully crisp. Mr. Winglip Chang, President of the company holding Kuya J, stated that this simple staple in Filipino restaurants "can be done perfectly by anybody given the right conditions, but consistency is not something that anyone can easily achieve." Having had this for two consecutive nights at different branches, I take Kuya J's word on their consistency to make this perfectly for every order. :)
Whew! That carnivorous overload had me struggling to brace myself for the coming desserts.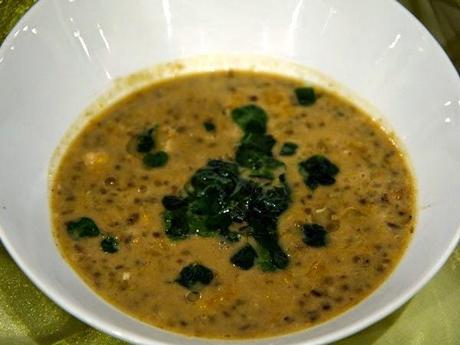 Guinataang Monggo
But wait, there was still the Guinataang Monggo. For me, this humble dish is always welcome on the table when in Filipino restaurants. I even crave for this during school days because it's very cheap, filling, and nutritious! My favorite variant is the one with crispy anchovies, and leafy greens such as kangkong and Moringa (malunggay). It's a shame for any Filipino to not do justice to this captivating poor man's fare. Kuya J's had the consoling richness yet balanced consistency from coconut milk enough to be heartwarming. Best eaten with plain rice! 
Other than Leche Flan and Mango Refrigerator Cake (domestically known as Mango Float), I really don't find Filipino desserts appealing. It's mostly just colored, flavored gelatine or dense, starchy, rice or rice flour-based specimens. Or maybe I just don't know what I'm talking about; maybe those are kakanin I'm referring to or I just haven't been exposed to enough variety of Filipino desserts. Either way, I don't ever find myself craving for Filipino dessert.  
One of Kuya J's desserts caught my discriminating palate's attention though...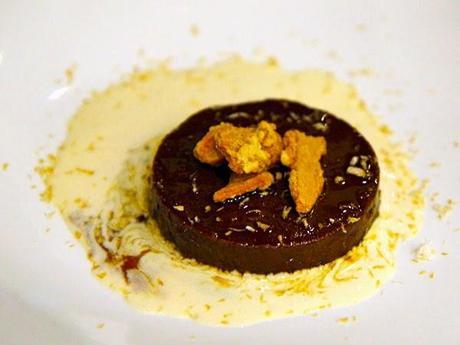 Tablea Flan w/ Coffee Syrup
            This rich, velvety flan made from Batangas tablea was hard to resist after one spoonful. The coconut cream it was swimming in complemented it very well, too. I was even more delighted to find that the flan was topped with broken pieces of barquillos (crispy egg wafer sticks), a childhood favorite snack!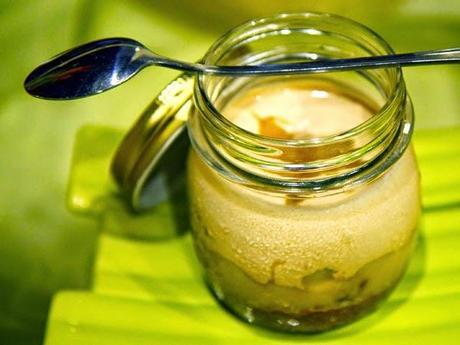 Banoffee Saba
             This creamy dessert is meant to be shared with friends and loved ones by passing around and scooping into the jar. I found the graham crust to be a bit too thick though but for banana dessert lovers, this is definitely for you.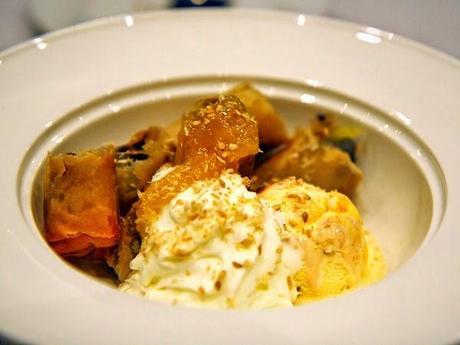 Fried Halo-Halo Ala Mode
             Their reinvention of the famous halo-halo was an innovative deconstruction veering away from the conventional presentation of this dessert. Wrapping the leguminous contents in lumpia wrapper and then deep frying it added a different texture and temperature from the usual cool, smooth, mixture. 
              The desserts indeed affirmed the impression of contemporary Filipino cuisine that Kuya J's desires you to leave the restaurant with. The comfortable accommodation and unique dishes here are definitely inviting for anyone with a palate seeking good food and ambience. The prices are also reasonable for the quality of service and food provided. This is a restaurant that has considered all the important details in the industry. 
*photos by 

mustachioventures.blogspot.com




Kuya J Restaurant

G/F, SM City Cebu
Contact: 

260.2991 - Escario Branch




266.8600 - SM Cebu Branch




266.8188 - SM Consolacion Branch

"To know Cebu, eat Cebu!"oink oink,
Babe for Food

-your BFF in Cebu dining! :)