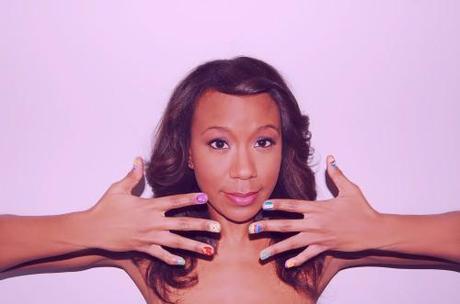 Adrienne, Founder of D.I.D Nail Paint
Need a fresh mani and pedi?  Do you consider the polish you use when at the nail salon?  Like me, are you addicted to buying new polish and change your color more than once a week?  Well then you should definitely know about Adrienne and her D.I.D Nail Paint!
Having recently met Adrienne at Curls and Cocktails (more about that later), we hit it off immediately, chatting about hair,nails and our alma maters. She is an alum of The Other UT and wears the slightly wrong color orange but I decided not to hold that against her!  :)
She is the creative mind behind D.I.D.   As a licensed nail technician, esthetician and nail art enthusiast,  she considered ways to apply her specialities to something she could call her own.  In 2011, that thinking lead to the  D.I.D collection; an ecofriendly, highly pigmented product, aiming to satisfy the young, sassy and fashion conscious customer.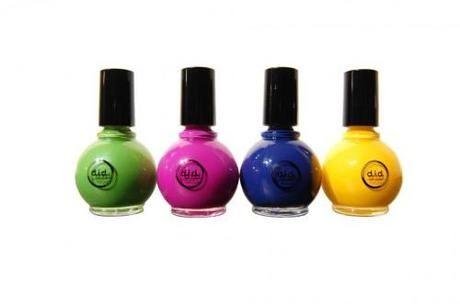 D.I.D Nail Paint Collection
Not only do we have a great MKB and D.I.D collaboration in the works but she is a part of the Wal-Mart Get on the Shelf contest!   Wal-Mart created this contest as a way for businesses to submit products they believe should sell on the shelves of Wal-Mart stores.  Through multiple stages, contestants promote their products and make their voice heard through online voting!  Adrienne and D.I.D Nail paint have made it to the second round and need your vote through September 2, 2013.
The process is quick and easy, only requiring 2 clicks!  Click the
link
and click to vote.  It is a great way to support small businesses!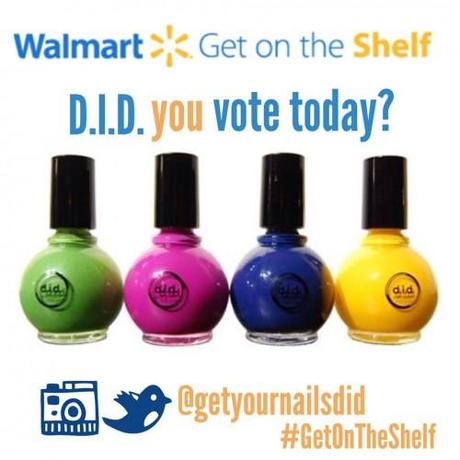 Cast Your Vote Today!
More about Adrienne and D.I.D Nail Paint: In March 2013, she was selected as one of the Top 50 entrepreneurs in the Scion Motivate business competition. Her work has been featured in Modern Luxury Magazine and has been recognized by BeautyHigh.com as one of the top favorite shades in 2012. Her products have also been recognized by beauty editors Eva Chen (formerly) of Teen Vogue and Marcia Caster of Essence magazine for her bright bold colors.