If you were here yesterday you'll remember Ruth and Dan's wedding day in the schoolhouse at Smallwood Manor – and you may also remember I hinted at the gloriously colourful details and then didn't show you any.
Ah… meanie! But here they are. Wedding photographer Katy Lunsford sent me so many beautiful photos I had to write two blog posts for Ruth and Dan's wedding – so you get a whole dedicated 'get the look' feature today, all inspired by (and with photos from) Ruth and Dan's day.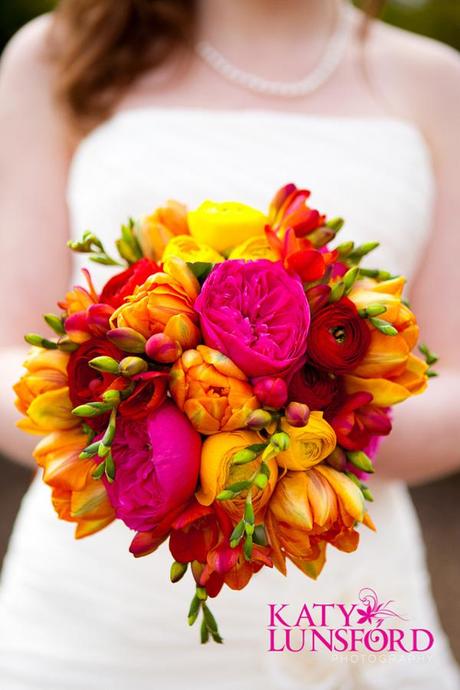 If you love colour and vibrant wedding photos, if you have a creative side and want some ideas for a bright and exciting wedding theme, then you're going to adore this feature!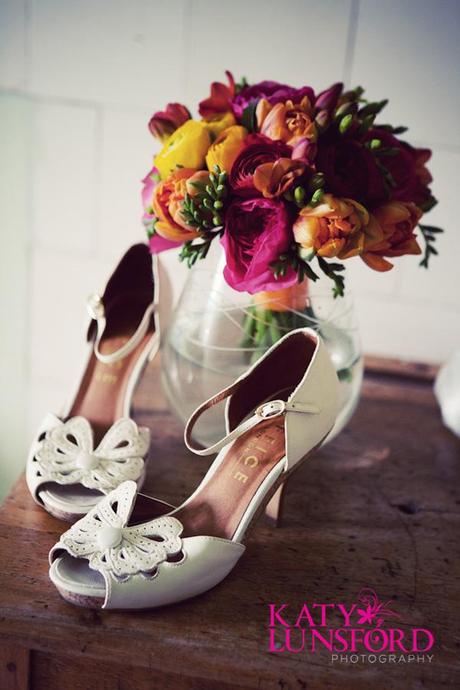 The bouquets were made by Ruth's sister Laura – using gorgeous freesias, tulips and ranunculus in vibrant red, hot pink, orange and sunny yellow colours.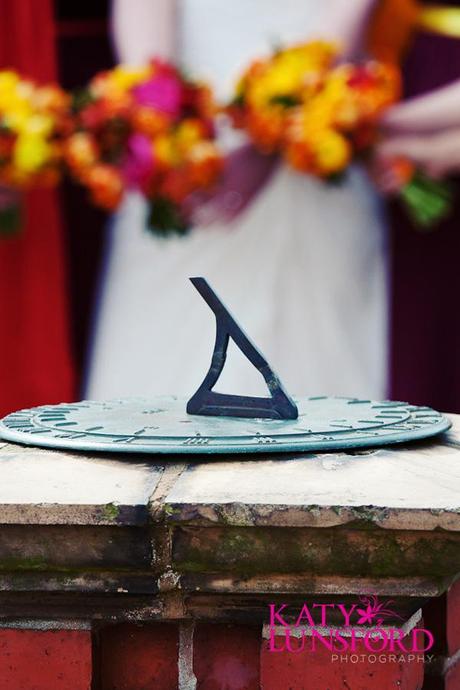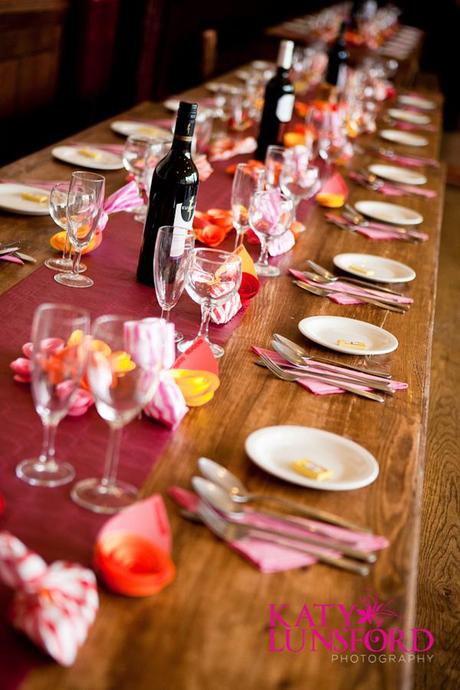 Keep table decorations simple, colourful and eye-catching. These ribbon flower decorations are beautifully made and guaranteed to be a talking point for wedding guests. Used with table runners and with pink napkins, they're perfect for splashing a bright colour theme across tables in an elegant way.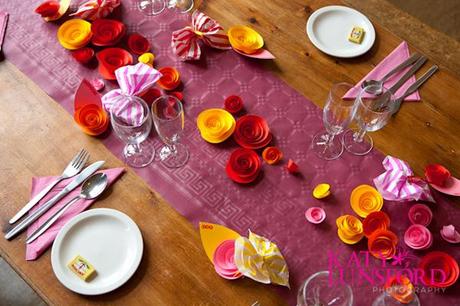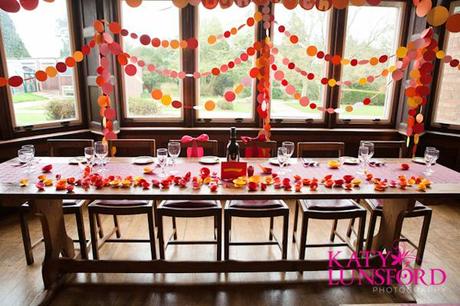 The schoolhouse has so much character – the boards with pupils' achievements are fab (and make a great backdrop to dozens more gorgeous photos over on Katy Lunsford's blog). The strings of coloured circles across the window set the tone for the reception, and match those ribbon roses on tables really well.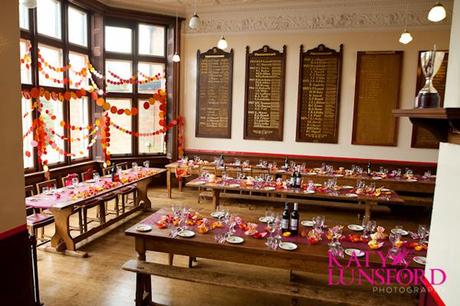 A simple and effective idea for decorating the edges of your wedding reception venue – or even grouped as table decorations: glass jars with ribbons tied around and votives inside. Colour and sparkle in an instant!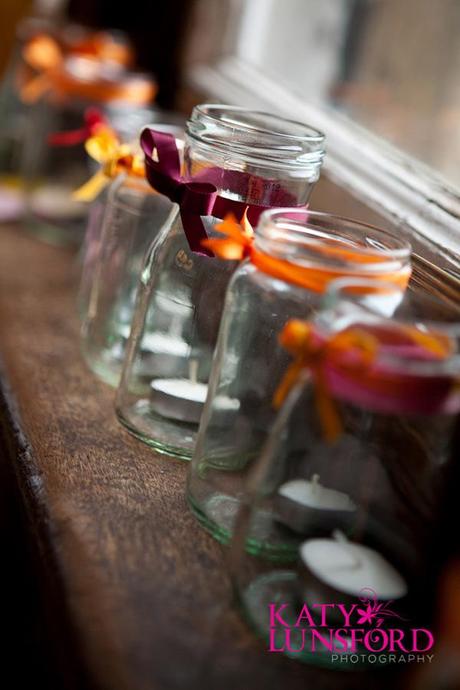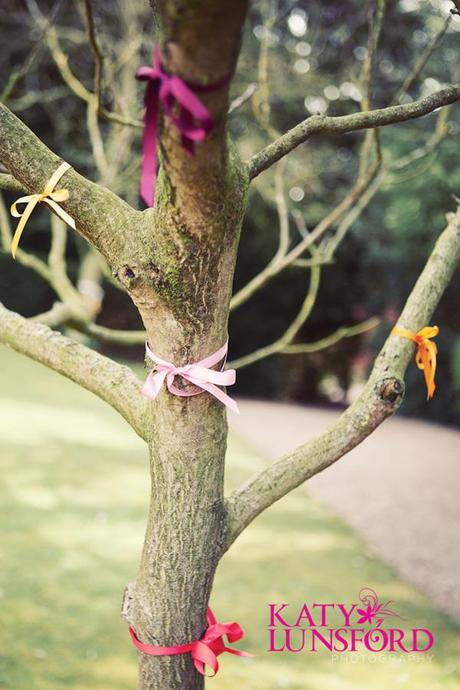 Follow a path to your wedding reception with colourful ribbons. It costs pennies to tie ribbons like these, and I think they add a certain enchantment to the venue approach. Does your wedding venue have trees along the drive?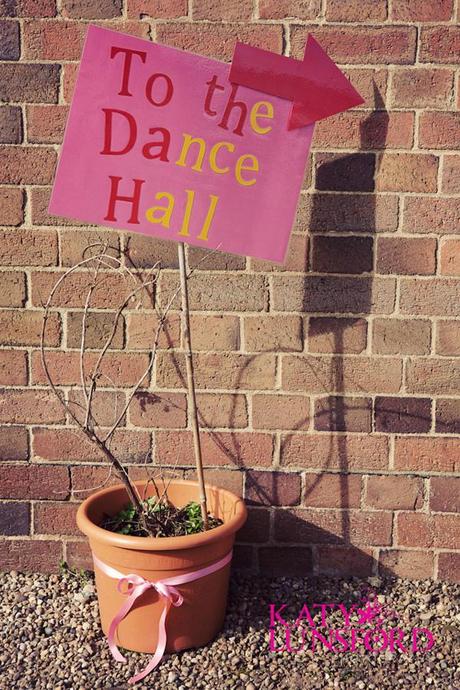 Make your wedding signage bright and bold – send guests along the right path with a smile by using bright colours and keeping an element of fun. Most of all, if you're using signs at your wedding keep them clear and legible like these. (And if they're going to go outside, do what you can to make sure they're waterproof!)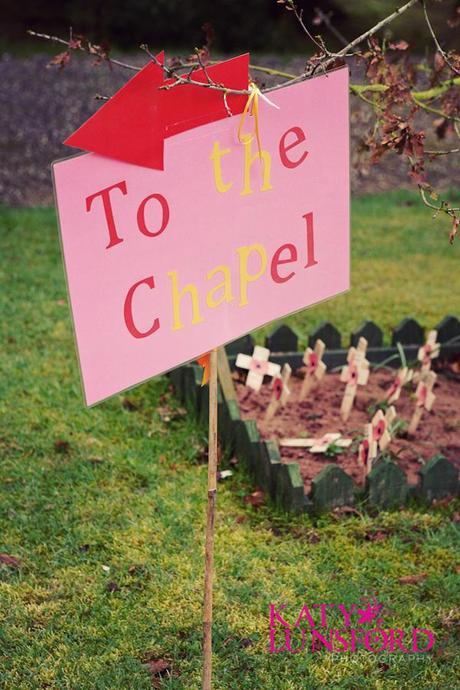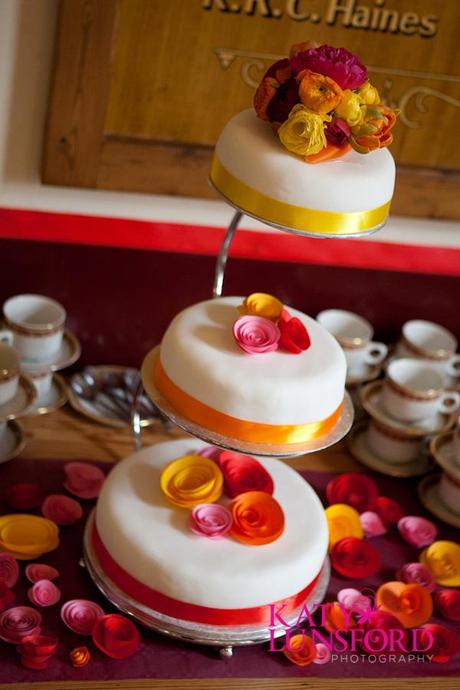 Ruth's mum made the wedding cake and decorated it with satin ribbons: the different colours around each tier, and the ribbon roses decorating the lower tiers, give it a professional finish. This idea is great for any colour scheme – using a couple of complementary colours rather than just one adds interest.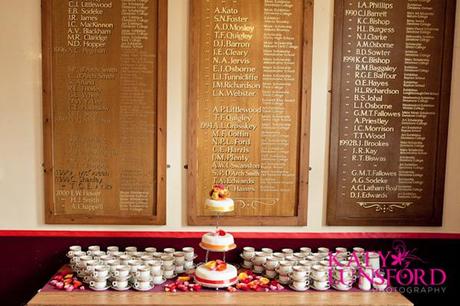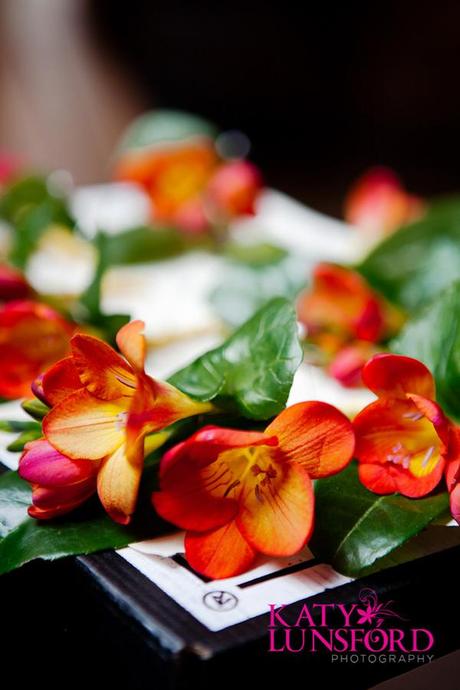 Buttonholes are simple and provide a lovely blast of colour: freesias in this lovely orange hue with a yellow centre… perfectly fitting for the sunny spring wedding theme.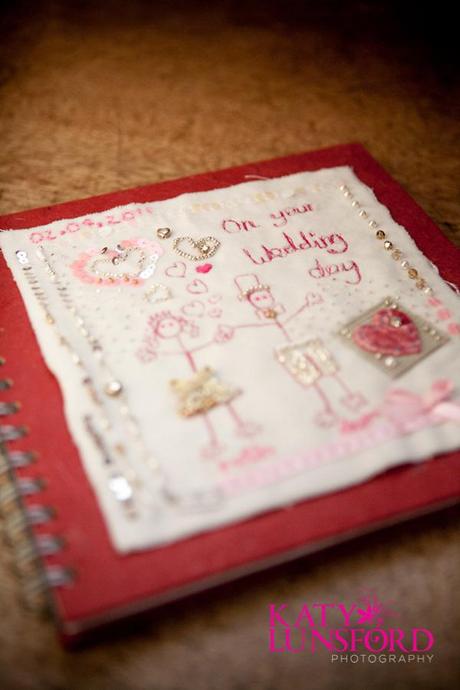 How cute is this wedding guest book? It's one of those little treasures that's clearly been made with love – in this case, by
buttongirl designs
.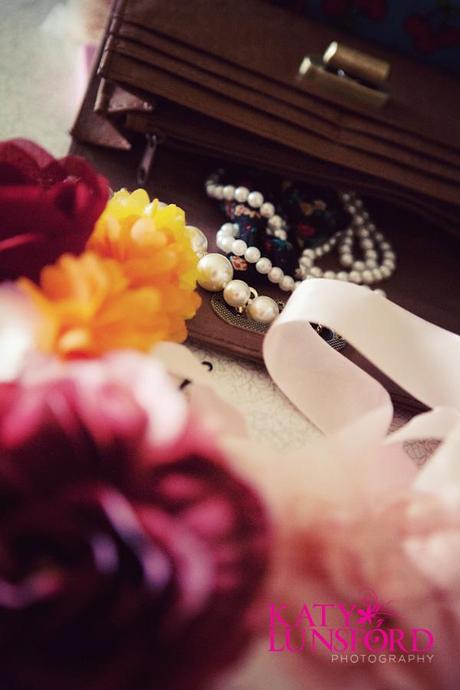 Ruth borrowed her pearl necklace from her Grandma Betty, and bought her pearl earrings from H Samuel.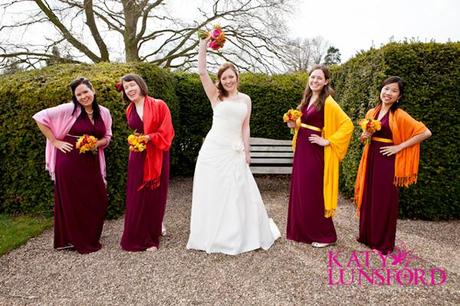 The bridesmaids' dresses are from French Connection, and they added their own personal touch with ribbons around the waist and those fabulous pashminas – don't they look amazing!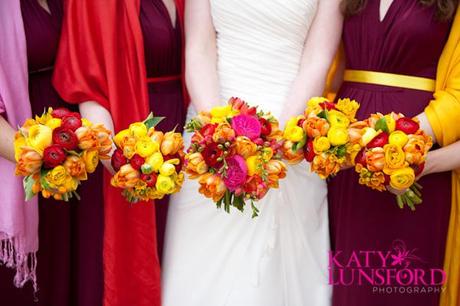 A final tip: use colour creatively and plan how your day will look when all the elements come together. While everything around her is in glorious technicolour, I love how Ruth wears her white wedding dress (from Pronuptia in Altrincham) and white shoes and jewellery – she positively glows amongst all the colour.
Thank you once again to wedding photographer Katy Lunsford, and of course to Ruth and Dan for sharing their day with us.
If you're planning a colourful wedding day or if you have ideas and tips you could add, please share them in the comments below.
Thanks for reading! Do you feel summery now? I do!
Claire xxx