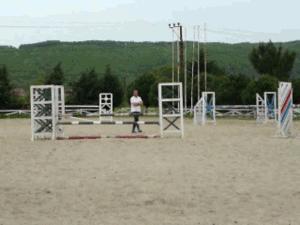 Horse Riding (Photo credit: Wikipedia)
There are only a few more days of the summer holiday to go before my kids are back in school. It's a day I've been looking forward to, as I've struggled to get them out of the house so far, as they were only interested in playing computer games and spending time in their bedrooms. However, I've wanted to get them doing something a little more active, and I've decided to do it in the next few days. There are a number of cool things that we could do as a family that will be memorable in so many ways.
Taking horse riding lessons is one such activity I had in mind. I've always wanted to ride a horse since I was young, and thought that learning with my kids would be exciting. Once we bought riding equipment like helmets and horse riding boots from equestrianclearance.com, we were ready to ride a horse for the first time. It was exciting to ride up and down the hills, and it's something I'd love to do with them on a weekend when there's nothing else to do.
With a few days still left until the summer holidays are over, you could do other things besides horse riding. If the weather's nice, you could go for a walk in the park and have a picnic, go visit a museum or, to really get them excited, take them for a day trip to an amusement park for an experience they'll never forget. Whatever you choose to do, make sure it's something they'll both enjoy and remember, because a summer spent in front of the TV or in bed isn't worth talking about, and is just time wasted.