During the last stages of a house design there is a need to clarify every single detail to the owner and in order to begin construction the planning officers from the city request a realistic visualization of the property to be. This are the 2 signals that are telling the architect to create a high quality 3D Rendering visual of the project. So, why not making outstanding life-like representations that will be used as selling portfolio for you or your architect firm.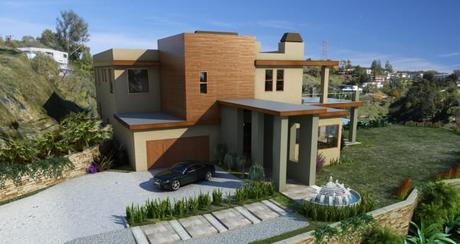 Realistic 3D House Design Renderings For Owners
An incredible way to make owners to totally engage with the house project is to create 3D house design visualizations that will display realistic finishes and materials. Home buyers get the final motivation they need to approve your final design and start with the construction phase. High Quality representations also bring new ideas to improve designs and this makes clients to be happier with your work.
Rendering House Projects To Get Fast City Council Approvals
Many projects architects design are for a group of investors or an individual that decides to invest in a construction. In order to begin construction, projects need to receive the city permits. Some neighborhoods are very demanding in terms of design style, colors and vegetation to incorporate in a building. It is proven that rendering house views with photo perfect quality helps to get the city permits much faster and saves a lot of time for architects and investors.
GoldmanRenderings.com network of clients tell us they are getting faster approvals and sure its happening, we are getting many more work to do every new year. Yes, architectural renderings are a great investment. Just make sure to generate photo quality computer graphics with a professional company that has passionate and experienced talents. We know it's not an easy task to find reliable partners but if you are reading this, you already found a reliable rendering company with more than 150 loyal customers.