When I saw that this month's theme for #Bundtamonth was Caramel, I secretly freaked out. I have never made caramel from scratch before. Sure, I've boiled can of sweetened milk to make dulce de leche; I've made caramel on my thermomix, even bought some from the store, but from scratch? Never.
Well, until now.
I know I could have cheated by buying store bought caramel or make some on my thermomix, but if I did so,  it wouldn't be a challenge anymore. So I decided to make my own caramel on the stove, the old fashioned way. Let me tell you, that making your own caramel is not hard at all.  I was really amazed at how easy it was to make it! I wasn't really sure I would be able to pull this through but I always manage to outdo myself.
So anyway, contrary to my first impression, a German chocolate cake did not originate in Germany, (shocking I know), its not a German cake, or related to Germany in anyhow, the naming actually refers to thetype of chocolate used to make this cake, German chocolate. Kind of chocolate is similar to semi-sweet chocolate, only sweeter. So if you can't find that particular kind, feel free to substitute it with semi sweet chocolate plus two tablespoon sugar per cup.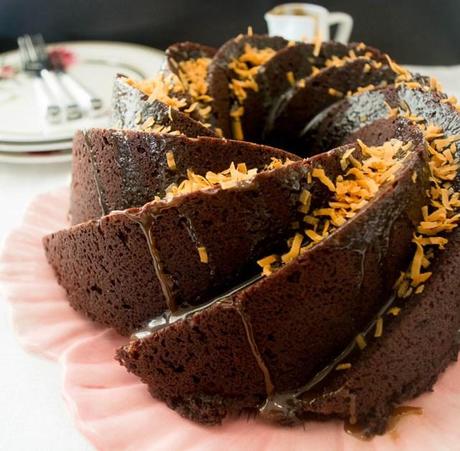 After last month's baking failure, when my zebra cake turned into a marbled cake, i decided to follow the recipe to the T, I simply didn't want to be taking any risks, especially where chocolate is concerned. The only problem I had was that the bundt pan I used was too small. Ughh! I used a 10 cup Bundt pan, if you make this, I'd suggest to use a 12 cup Bundt pan, unless you like to clean spilled cake from the oven's floor. No? Well I didn't think so, so use a larger Bundt pan, or at least, fill whatever Bundt pan you have 3/4 (no more) and distribute the rest of cake mixture into cupcake liners.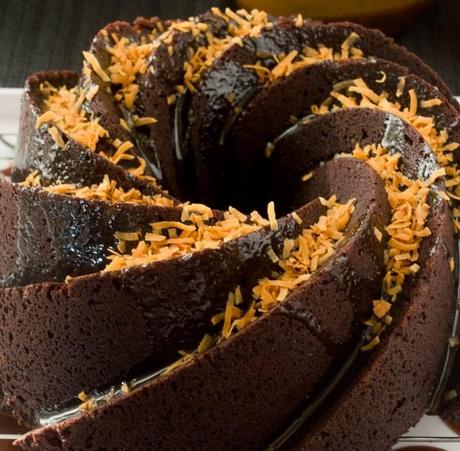 Here's some inspiration for some caramel Bundts
Or visit the hosts for Bundtamonth, Cakeduchess or Bakerstreet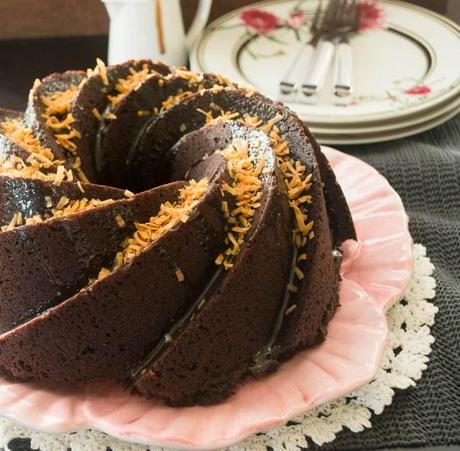 Here's how you can join the #BundtaMonth party:
Bake your Bundt for the Caramel July theme. – Get inspired by your favorite caramel cake ideas and bake us a Bundt for Caramel July! – Post it before July 31, 2013. – Use the #BundtAMonth hashtag in your title. (For ex: title should read #BundtAMonth: Caramelized Apple Bundt Cake) – Add your entry to the Linky tool below – Link back to both Lora and Anuradha's announcement posts. That's it! Join in the caramel baking fun all July!
Follow Bundt-a-Month on Facebook where we feature all our gorgeous bundt cakes. Or head over to our Pinterest board for inspiration .
Looking for inspiration to bake a Caramel Bundt this month? Stop by and visit all these beautiful bundts this month!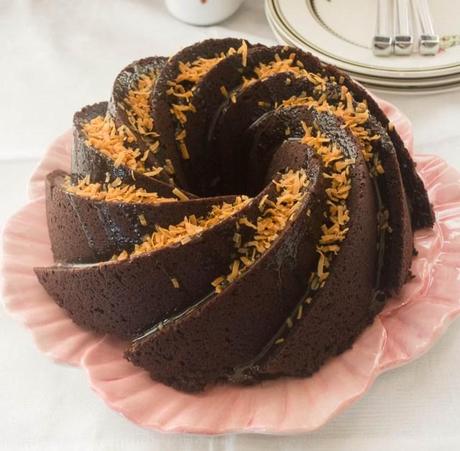 Even more Bundt fun!
Follow Bundt-a-Month on Facebook, where we feature all our gorgeous Bundt cakes. Or head over to our Pinterest board for inspiration and to choose from hundreds of Bundt cake recipes.
Print German Chocolate Cake with Caramel glaze
Prep Time: 30 minutes
Cook Time: 60 minutes
Total Time: 1 hour, 30 minutes
Yield: 10 - 12 servings
If you love chocolate and you love sweets, than this cake is for you. The pecans, caramel and coconut not only add an extra kick to this cake, but define its identity: A German chocolate cake.
German Chocolate Cake adapted from Taste of the South Magazine Caramel adapted from Food Network
Ingredients
3/4 cup (90g) natural unsweetened cocoa powder
3 squares (90g) German's sweet chocolate, chopped
3/4 cup (187.5ml) hot coffee
1/2 cup (113g) unsalted butter, softened
2 cups (400g) sugar
3 teaspoons vanilla extract
3 egg whites, at room temperature
3 cups (345g) all-purpose flour
3 tsp baking powder
3/4 tsp baking soda
1 1/2 tsp salt
1 1/2 cups (375ml) whole buttermilk
1 cup (110g) pecans, roughly chopped
3 tbsp sweetened shredded coconut
Caramel
1 cup (220g) packed brown sugar
1/4 cup (56g) butter
1/2 cup (125m) heavy cream
1/2 tsp salt
1 tsp vanilla
Steps
Preheat oven to 180C / 350 F / Gas mark 4. Grease and flour a 12 cup Bundt pan. Set aside.
Place the cocoa powder, chocolate and coffee in a medium bowl, whisk until combined. Set aside.
In another bowl, whisk the flour, baking powder, baking soda, and salt. Set aside
In the bowl the stand mixer, beat the butter, sugar, and vanilla at high speed (6 – 8) with an until its light and fluffy (5 minutes).
Add the egg whites, one by one, beating well after each addition. Reduce the speed to low, add chocolate-coffee mixture, beat for 3 minutes until it's well incorporated. Add flour mixture to the butter-chocolate mixture, alternately with buttermilk, beginning and ending with flour. Switch off the mixer. Using the spatula, fold in the pecans. Pour batter into the prepared Bundt pan.
Bake for 55 - 60 minutes or until a wooden pick inserted near the center of cake comes out clean,
Cool in pan on a wire rack for 10 minutes. Then, invert the cake into a wire rack and let cool completely
Meanwhile, prepare the caramel.
In a small saucepan over medium heat melt together the butter and sugar stirring with a whisk until the mixture begins to bubble.
Add the cream, continue to whisk until the cream bubbles. Add the salt and vanilla, whisk for one more minute. (if the caramel is thin, don't worry, it will thicken as it cools)
Once the glaze cools, pour it over cake. Decorate with sweetened coconut and pecans (if desired).
Store at room temperature for up to 5 days.
Schema/Recipe SEO Data Markup by ZipList Recipe Plugin2.2http://sukarah.com/2013/07/german-chocolate-cake.htmlSukarah | http://sukarah.com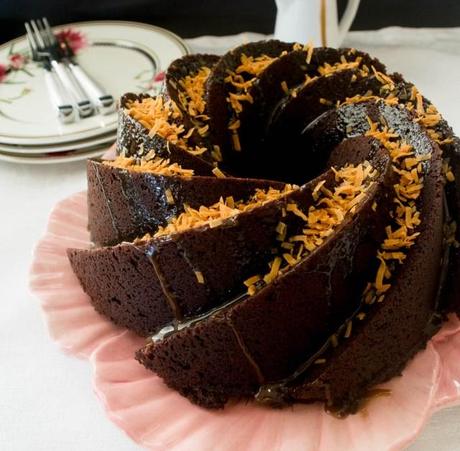 The only thing missing in this photo is my cup of tea. A big, fat, warm mug of raspberry white tea.
What can I say, am a sucker for an afternoon tea with chocolate desert.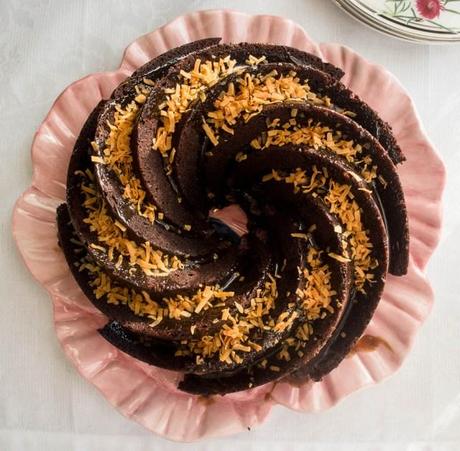 If you enjoy Sukarah's posts, please like us on Facebook, follow us on Twitter, or follow our pins on Pinterset.
Don't forget that to subscribe for Sukarah's RSS feed to receive notification whenever there is a new post.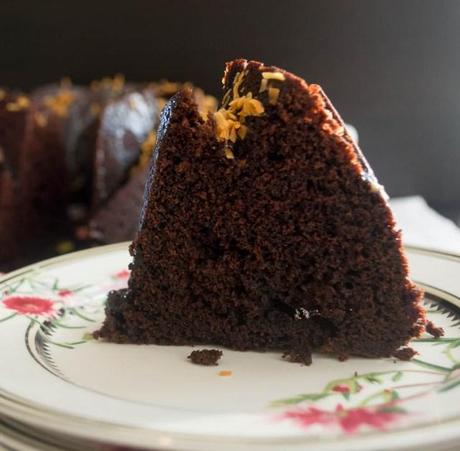 Voila, here is my Bundt for July. Am secretly looking forward to August's Bundt theme, and suddenly am wondering how is it that 2013 is almost over. Time is passing so fast.
Have you baked any new Bundts lately?