Penang tourism department really treats tourists who visit Penang island very well. It is tangibly seen from its transport facility which is provided for tourists to move from one place to another.
One of most favorite public transportation in Penang island is CAT atau Central Area Transit shuttle bus. It  is a hop on bus service which doesn't charge the passenger to have George Town city tour. All you need to do is finding the sign "CAT Free Shuttle" sign at the road side of George Town.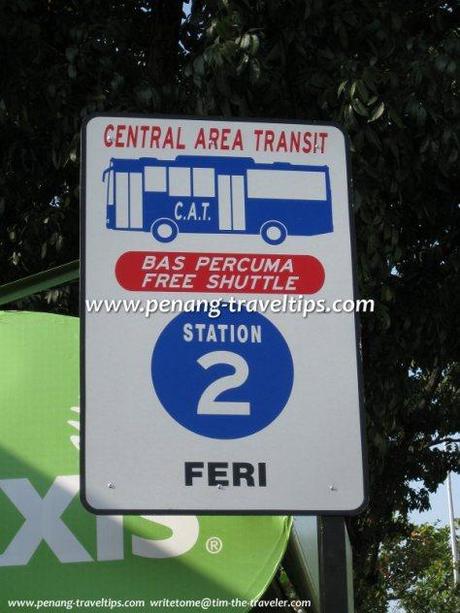 If you stay outside George Town, you can take Rapid Transit bus (a paid public transport) which will lead you to Komtar Bus terminal where ere CAT also stops by . The outlook of this bus is more or less like the Rapid Transit bus, just make sure that you see "FREE" sign on its left corner of its windshield. 
Here is CAT route map where the bus shelter are located, including some tourism sites you might need to have to set your George Town city tour itinerary. To be kept in mind, this bus operates from 06.00 AM to 12.00 PM. (info taken from here)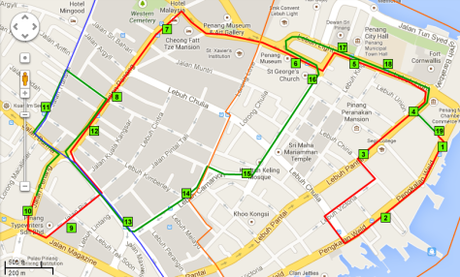 1. Pengkalan Weld
Streets: Weld Quay, Downing Street
Swettenham Pier
Church Street Pier
2. Feri
Streets: Weld Quay, China Street Ghaut, Victoria Street
Pengkalan Raja Tun Uda
Wisma Yeap Chor Ee
Wisma Kastam
3. Little India
Streets: Beach Street, China Street, Church Street
Pinang Peranakan Mansion
Chung Keng Kwee Ancestral Temple
Penang Heritage Trust
San Wooi Wooi Koon
Old OCBC Building
1886 Building
Kongsoon House
Ghee Hiang
4. Imigresen
Streets: Beach Street, Bishop Street, Union Street
Immigration Building
Standard Chartered Building
HSBC Building
Royal Bank of Scotland (formerly ABN Amro Bank)
Logan's Building
Whiteways Building
5. Bank Negara
Streets: Light Street, King Street, Pitt Street
Bank Negara Malaysia Building
House of Yeap Chor Ee
Town Hall
City Hall
Fort Cornwallis (inc. Francis Light Statue & Lighthouse)
Cenotaph
Dewan Sri Pinang
6. Muzium
Streets: Farquhar Street, Love Lane
Penang Museum
St George's Anglican Church (inc. Francis Light's Memorial)
Church of the Assumption
Supreme Court
Logan Memorial
Convent Light Street
St Xavier's Institution
7. Lebuh Muntri
Streets: Penang Road, Muntri Street, Leith Street
St Francis Xavier Church
Hainan Temple
Francis Light's Tomb
Segara Ninda
Cheong Fatt Tze Mansion
8. Lebuh Campbell
Streets: Penang Road, Campbell Street, Hutton Lane, Dato Koyah Road, Kampung Malabar
Benggali Mosque
Chowrasta Market
Penang Bazaar
Sri Kunj Bihari Temple
9. Komtar Pusat
Streets: Jalan Ria, Tek Soon Street, Lebuh Lintang, Magazine Road
Komtar
Prangin Mall
Pacific Komtar
10. Komtar Utara
Streets: Penang Road, Bertam Lane, Macalister Road, Tek Soon Street
Ong Kongsi
Komtar
Masjid Jamek Simpang Enam
Gama
Church of Our Lady of Sorrows
11. Jalan Kedah
Streets: Transfer Road, Kedah Road, Phee Choon Road, Burmah Road
Masjid Titi Papan
Dato Koyah Shrine
Saw Khaw Lean Heah Kongsi
12. Chowrasta
Streets: Penang Road, Chowrasta Road, Tamil Street, Kimberley Street, Dickens Street
Chowrasta Market
Penang Bazaar
Penang Road Cendol
13. Komtar Timur
Streets: Prangin Road, Rope Walk, Lebuh Lintang, Carnarvon Street
Prangin Mall
Masjid Pintal Tali
Ghee Hin Hall of Heroes
Prangin Canal
Sia Boey
14. Lebuh Carnarvon
Streets: Carnarvon Street, Kimberley Street
Li Teik Seah Building
Penang Tourism Information Centre
Penang Islamic Museum
Sun Yat Sen Penang Base
Campbell Street Market
15. Kampung Kolam
Streets: Kampung Kolam, Kampung Kaka, Claimant Place, Pitt Street, Armenian Street
Kapitan Keling Mosque
Noordin Family Tomb
Khoo Kongsi
Cheah Kongsi
Lim Kongsi
Yap Kongsi
Choo Chay Keong Temple
Hock Teik Cheng Sin Temple
Acheen Street Mosque
Gudang Acheh
16. Mahkamah
Streets: Pitt Street, Bishop Street, Church Street, Farquhar Street, Stewart Lane
St George's Church
Kuan Yin Teng
Sri Mahamariamman Temple
Supreme Court
Chinese Chamber of Commerce
Bank Negara Malaysia
17. Dewan Sri Pinang
Streets: Light Street, Esplanade Road, Duke Street, Jalan Tun Syed Sheh Barakbah
Dewan Sri Pinang
Town Hall
City Hall
Supreme Court
Logan Memorial
Cenotaph
18. Kota Cornwallis
Streets: Light Street, Penang Street
State Assembly Building
House of Yeap Chor Ee
Foo Tye Sin Mansion
Fort Cornwallis (inc. Francis Light Statue & Lighthouse)
19. Lebuh Downing
Streets: Beach Street, Downing Street, Union Street
General Post Office
Islamic Council Building
HSBC Building
Standard Chartered Building