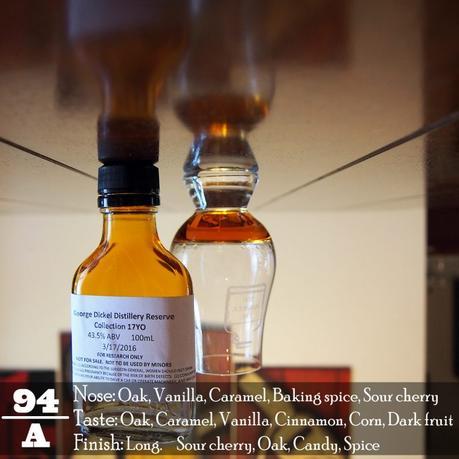 I love George Dickel. It's no secret I'm a big fan of the awesome whiskey they put out so when the good folks at GD asked me if I'd like to try the new George Dickel 17 Years I was elated. It's the oldest whiskey that's ever been released by the distillery and brings out a new dimension to the overall character of George Dickel. In a nutshell, it's one of those drams that just makes me happy.
George Dickel 17 Info
Region: Tennessee, USA
Distiller: George Dickel
Mashbill: 84% Corn, 8% Rye & 8% Malted Barley
Cask: New Charred Oak
Age: 17 Years
ABV: 43.5%
Price: $100 (375ml)
George Dickel 17 Review
EYE
Polished Oak
NOSE
Oak, vanilla, toffee, complex baking spice (nutmeg, cinnamon, clove, etc.), sour cherry candy and a bit of dried fruit and grain. They mix and mingle in a delightful way, this is a richer denser tapestry of everything I love about George Dickel.
PALATE
Oak, caramel, vanilla, cinnamon, corn meal, dark fruit, buttery brittle and baker's sugar rush across the palate in an organized chaos with light notes of olde time candy, Canadian mints, a touch of cocoa and an underlying nutty and biscuity character. I could drink this for a month straight and not get bored. I love this stuff.
FINISH
A long oaky path with hints of vanilla, sour cherry candy, spice and dark sweets slowly fades out to a dark fruit, cocoa and toffee character.
BALANCE, BODY & FEEL
Fantastic balance, round full body and rich heavy feel that belies its chill-filtered liquid.
OVERALL
George Dickel 17 has a character that's related to, but unlike, the rest of the George Dickel line up. It's fascinating to see how the extra aging has played on it this 80% corn distillate and brought out so much more depth and complexity. The dark fruit notes being the most noticeable enhancement along with the sour cherry candy notes. The grain notes do still play a role, but they've been moved back a bit.
This is a fantastic whisky and if you're already a George Dickel fan then this is would be right up your alley. The George Dickel 17 is seriously a whiskey I could drink for a month straight and not get bored with. Too bad it's a distillery only release at the moment. Though if I end up anywhere near Nashville you can bet I'll be making my way back out to the George Dickel Distillery and pick one up!
SCORE: 94/100 (A)
*Disclosure: This sample of George Dickel 17 Years was graciously sent to me by the company for the purposes of this review. The views, opinions, and tasting notes are 100% my own.