07/25/2011
This fall, The Out NYC boutique hotel will open up in Manhattan's Hells Kitchen will be the first hotel and entertainment hotel catered specifically towards the LGBT community.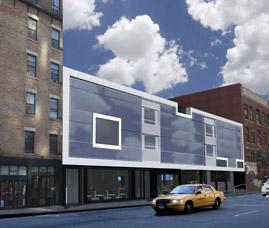 Courtesy of Out NYC
Fox News reported:
"This is an idea whose time has come. What makes THE OUT NYC a gay hotel is the comfort level and tailored amenities for the community," said Ian Reisner, managing partner of Parkview Developers, the firm behind the concept. "THE OUT NYC will become a 'can't-miss' for gay tourists as well as the epicenter of gay life for LGBT New Yorkers. With New York's recent legislation, we look forward not only to hosting countless gay couples, but marrying them as well.
The hotel will have a fitness center, lounge, restaurant and café, which will be operated by Eatery, a prominent staple in Hell's Kitchen restaurant life.
Save your pennies, though. Room rates are expected to start at $250 per night.