Recipe Number One Hundred & Eleven:  Page 162.
I was filled with high hopes when I read the introduction to this recipe. Mary puts this as being one of her favorite coffee cakes, so it's got to be top notch, surely?! At first glance the recipe didn't appear to be too challenging; a fatless sponge with a coffee butter cream filling. After a more lingering look, it became clear that it was more difficult than I'd at first imagined. A sugar thermometer is required; this was enough to send a shiver down my spine! I have had no experience of using a thermometer in cooking before. My only knowledge of using such a thing was when trying to get out of school and heating it up on the radiator, dreadful I know!!! My sister was just as bad, but she made a rookie mistake -she placed the thermometer in the steam from a boiling kettle and the whole thing shattered. I should make it clear that neither of us got away with our amateurish attempts at skiving!!
I digress; back to the cake! I needed to make the fatless sponge first of all. This is essentially a Swiss roll. I have failed miserably with Swiss rolls in the past; this was due to not whisking the mixture enough. My patience must be improving as, when whisking the eggs and sugar together, I made sure that I kept whisking until the mixture was thick enough to leave a trail when the whisk was lifted from the bowl. I sifted a small amount of flour into the bowl. I found it a little tricky to fold in. Rather annoyingly the flour clumped together. It was hard to fold it in thoroughly without over mixing the delicate mixture. Carefully I poured the cake batter into the lined tin. It then cooked in the oven for nearly half an hour. I was so pleased when I took the cake out of the oven; it had risen! Maybe my Swiss roll curse is now a thing of the past.
I left the cake to cool whilst I made the crème au beurre moka (a French coffee butter cream). I was a little concerned about making this as it looked a little fiddly. I was, however, delighted that no icing sugar was required for this butter cream. Hooray, I would avoid the sugar cloud! First of all, I measured some sugar and water into a small saucepan. I needed to heat it very gently to begin with. I resisted the urge to grab a spoon and give the sugary mixture a good old stir. I am not sure why stirring is a bad thing to do; I just know that it is! Once all the sugar had melted I could turn up the heat and get my thermometer out, whoo hoo!! I was so worried I'd overheat the sugar. I kept the thermometer in the syrup the whole time so that I could see the temperature go up. As soon as it reached 107 degrees I whipped the pan off the heat. I already had two egg yolks in a bowl waiting to be cooked by the hot sugar! Very, very slowly I tipped the syrup from the saucepan into the bowl in a steady trickle whilst continuously beating the mixture. It was very hard not to get any of the syrup on the sides of the bowl. A little did and it went rock hard immediately, whoops!! I kept whisking until the mixture was cold. Soon I could move on to the next stage, no - I hadn't finished yet! In another bowl, I creamed a rather large amount of butter until really soft and smooth. Ahh so this cake couldn't be classed as low fat anymore! I slowly whisked the egg mixture into the butter. Now I just needed to add the coffee flavor. I used just over a tablespoon of coffee essence and had a little taste. I was very tempted to eat my way through all of the butter cream and not bother with the cake! It was so delicious; who needs icing sugar?!
I successfully managed to split the cake in half and reluctantly smoothed a little of the butter cream on the bottom half of the cake and then placed the other half on top. I wasn't allowed to use all of the remaining butter cream to cover the top and sides of cake; I had to keep a good amount for decoration. I pressed flaked almonds all over the cake. This took a long time! Once dusted with icing sugar I thought it looked pretty as it was. I was worried about piping on the remaining butter cream in rosettes; I am not a skilled piper!!! I didn't have much to work with, so I just dolloped it on rather than attempting anything fancy. It looked a little more special, but I am still not sure if it's a necessary finishing touch and I am also not sure that brown butter cream is particularly pleasing on the eye! I cut Neil a slice and quickly asked him what he thought. He responded through a mouthful of cake that he was too busy eating to comment. I took this to be a good sign! The sponge was delicately light and airy. The butter cream as I mentioned earlier was utterly divine. It was a bit of a pain to make and created quite a bit of washing up. However, I think it's definitely worth the effort. It had such a smooth consistency, almost like a mousse. The flaked almonds offered a delicious crunch. All in all it was a beautifully light cake. It wasn't particularly difficult; it just took a while to make. I have to agree with Mary; this is most definitely one of my very favorite coffee cakes.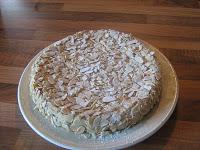 Pretty!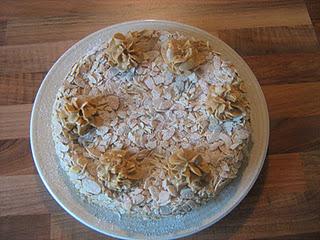 Dreadful piping!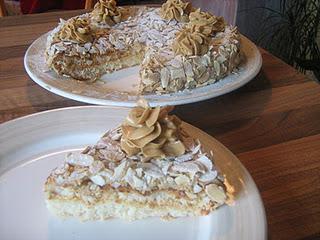 A delicious and very light coffee cake :-)