Piece by piece the puzzle known as the Garth Brooks return tour is starting to take shape.  We now know that the Garth Brooks World Tour will kick off in Chicago on September 4th.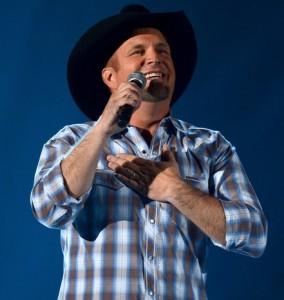 Garth Brooks
Here is the official press-release from Garth Brooks:
AND SO IT BEGINS, THE GARTH BROOKS WORLD TOUR WITH TRISHA YEARWOOD
FIRST STOP ON THE TOUR…A RETURN 17 YEARS IN THE MAKING…CHICAGO!!!
LOS ANGELES- JULY 15, 2014- Garth Brooks is set to kick off his world tour and the first stop is Chicago. It will be the first time Garth has played Chicago in 17 years. The concert will be Thursday, September 4th, 7:30 PM at the Allstate Arena in Rosemont, IL.
"As an entertainer, you get asked a lot 'what are the best cities to play?' Without hesitation, I rattle five or six of the best places to play and that list ALWAYS includes Chicago. It is the PERFECT city to launch the World Tour!" said Garth Brooks.
Tickets will be on sale Friday, July 25th at 10:00 AM CST. There will be a six ticket limit per purchase. They can be purchased at www.ticketmaster.com, 1-800-745-3000 or Ticketmaster Express 1-866-448-7849. Please note there will be no sales at the venue box office or Ticketmaster outlets on July 25th.
Tickets will cost $56.94 plus $2.56 tax plus $6.00 service charges, totaling $65.50.
About Garth Brooks
Certified by the RIAA in 2000 as the #1-selling solo artist in U.S. history, Garth Brooks is now certified at 134 million albums and has received every accolade the recording industry can bestow on an artist.
In 2001, Garth retired and moved back to Oklahoma to raise his children. In 2008 the President-elect, himself, requested that Garth headline President Obama's Inaugural Celebration at the Lincoln Memorial. A crowd of over 300,000 did the "wave" to Garth's performance of "Shout" while the President sang along. That same year the Governor of California asked Garth to help the State. Garth performed 5 concerts in 2 days with the proceeds from 83,000 tickets sold donated to efforts to prevent fire catastrophes. Portions of the live concerts were shown as a TV special, "Garth Brooks: Live in L.A." allowing viewers to donate as well.
In December 2010, Garth finished an astonishing 9 sold out concerts in 6 days to raise money for the flood relief efforts in Tennessee. ABC World News Tonight declared Garth The Person of the Week and the Mayor of Nashville announced that this was a record December for downtown Nashville merchants due to the over 145,000 who attended the concerts. In January, 2012 he was named the best-selling artist of the last two decades by Billboard, Nielson and SoundScan, with a whopping 68.5 million sales. Brooks also sold out his recent appearance at the 100th anniversary of the Calgary Stampede. The sell out 15,000+ seats happened in less then a minute. Garth was recently inducted into the International Songwriters Hall of Fame in New York as well as the Nashville Songwriters Hall of Fame. In October he was inducted into the Country Music Hall of Fame. Performing for his induction were his heroes George Strait, James Taylor and Bob Seger.
On November 29th, 2013, Garth took the night with almost 9 million viewers watching his CBS special "Live From Las Vegas." That very day Garth released his new boxed set, Blame It All On My Roots, which debuted for the 13th time in Garth's career at #1 on the country charts. The boxed set also rose to the top of the Billboard 200 Chart making it the 9th time Garth has been able to achieve that feat.
Garth recently broke another record when he sold out 5 consecutive dates at Croke Park in Dublin, a feat no other artist had achieved. In fact, over 400,000 tickets were sold. Just after this feat, Garth's performance of "Friends in Low Places," was the last thing heard on The Tonight Show as Jay Leno ended his 22 year reign as The Tonight Show host.
Lets hope that more dates become known soon, after all September 4th is less than two months away!
For more details visit: www.garthbrooks.com