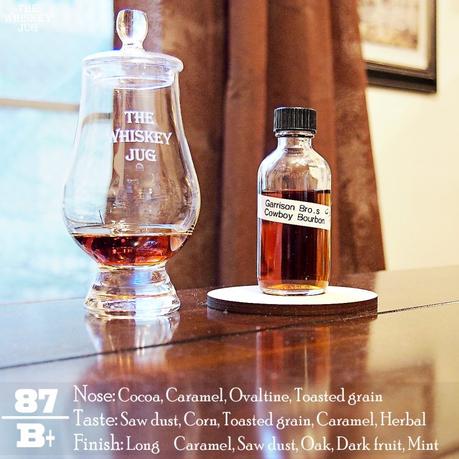 Garrison Bros Cowboy Bourbon is the uncut, longer aged, limited edition version of the Garrison Bros. Bourbon. If you're not familiar with Garrison you definitely should get to know them as they're currently one of the hottest / major craft bourbon makers on the market today and their single barrel bottles often retail in the $100 range.
In Garrison's Words: Garrison Bros Cowboy Bourbon
"Little" may apply to the 375-ml size of the bottle, but nothing else was little about Garrison Brothers Cowboy Bourbon™. This was the first new bourbon we had introduced since we released Garrison Brothers Texas Straight Bourbon Whiskey on Texas Independence Day in 2010. This bourbon was uncut and unfiltered, straight from the barrel, weighing in at 136 proof. It was not for the faint of heart and certainly not for casual drinking. It was a limited release – just 600 bottles – of the finest bourbon we'd ever made."
This whiskey is vastly interesting to me because of what it is and what it represents in the world of craft whiskey. It's part of the turning point of craft from being "meh" into a force to be considered and investigated more and more. Which is exactly what we'll be doing in the Garrison Bros Cowboy Bourbon review below.
Garrison Bros Cowboy Bourbon Info
Region: Texas, USA
Distiller: Garrison Brothers Distillery
Mashbill: Not Disclosed
Cask: New charred oak
Age: 4 Years
ABV: 67%
Cask Strength | Non-Chill Filtered | Natural Color
Batch: 2015
Price: $160
Garrison Bros Cowboy Bourbon Review
EYE
Dark caramel
NOSE
Chocolate, caramel, Ovaltine, toasted grain and a touch of dark sweets and astringent oak. Water brings out corn, spice and a bit of nuts.
PALATE
Young saw-dust like oak, corn, toasted grain, caramel syrup and a touch herbal. Water shifts it to a brown sugar and dark fruit character that's a bit acidic.
FINISH
Long caramel, saw dust, oak, dark fruit and mint
BALANCE, BODY & FEEL
Decent balance, medium body and a hot heavy feel.
OVERALL
The Garrison Bros Cowboy Bourbon has a slight case of young-old going on but is hands down one of the better craft bourbons I've had. That young-old character going on isn't enough to be distracting and in a way it works quite well with the other cavalcade of notes that meet up with it.
I'd need more than a sample to test it out, but it seems like the Garrison Bros Cowboy Bourbon would work really well in cocktails and with its intense 134 proof delivery it would be perfect over ice in the summer. It comes across as a versatile whiskey, though at its asking price it might be something that you'd only ever want to drink neat.
SCORE: 87/100 (B)
Thanks to Linda for the sample!