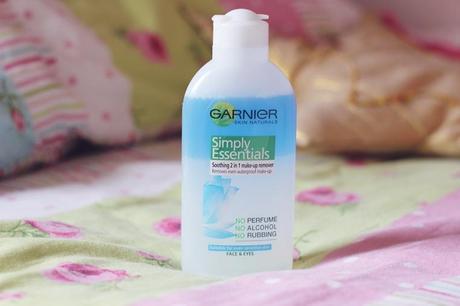 My next step in the hunt for an affordable version of the very popular Bioderma Micellar Water took me to the Garnier Simply Soothing 2 in 1 Make-up Remover. This make-up remover is certainly affordable as it is currently available for £2.99, although I managed to get it for £1.49 when it was on offer in Superdrug a couple of weeks ago. Bargain or what!
This liquid make-up remover is used in the same way as you would with Bioderma, with a little of the liquid applied to a cotton pad and then swept across the face to remove all of your make-up. What's different about this cleanser is its formula which really does make it a 2 in 1 product. The make-up removing oil contained in the blue liquid is mixed with the clear liquid which is a cleansing water, which is intended to cleanse your skin without leaving any residue or the need to rinse anything off. You simply shake the bottle to mix the forumla and Bob's your uncle, you have a great make-up remover.
I have been loving this product for so many reasons, with the first being its gentle formula. The alcohol free formula which makes it great for sensitive skin and also perfect for removing even the most stubborn waterproof mascara without irritating your eyes. The perfume free formula is also great for sensitive skin and one that I find leaves my skin feeling so fresh afterwards which is always a plus. I find that this cleanser removes my make-up very easily and the filthy cotton pads usually leave me wondering how I could have been wearing so much make-up in the first place!
If you're on the lookout for an affordable but still effective make-up remover then I'd definitely recommend the Garnier Soothing 2 in 1 Make-up Remover. Although I don't rely on it completley, it's great for the nights when I'm too lazy to have a muslin cloth cleanse with the Peaches & Clean or just to wake your skin up in the morning. You can find it Boots, Superdrug and most supermarkets (I'm guessing) for around £2.99.