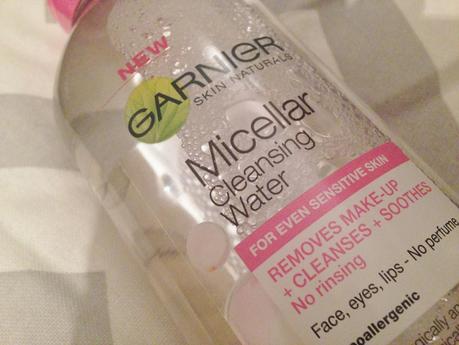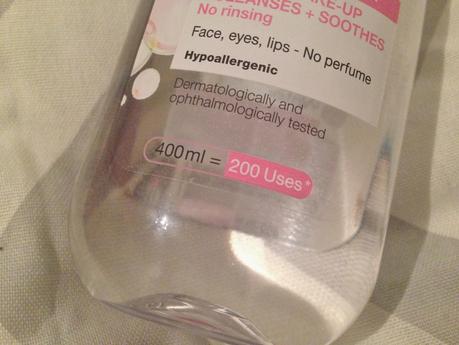 I saw the Garnier miceller cleansing water in an instagram post a month or so ago and have been trying to get my hands on it for ages. It finally seems to be popping up everywhere and I picked it up in Asda a few weeks ago. I had become a little reliant on micellar water after falling in love with both Bioderma and the L'Oreal offering but I've started using it properly as a make-up remover rather than a cleanser and my skin is loving me for it. I read Charlotte's post 'why bioderma is so 2013' and it completely summed up my current skincare problems. I'd become really lazy and was relying completely on micellar water for all my skincare needs. 
I went cold turkey for a week after reading her post and began properly cleansing, toning and moisturising. My pores are less visible, my skintone less red and I am having fewer breakouts. In the last few days I've reintroduced micellar water as a pre-cleanse to get the most from my REN cleanser and to also remove all my make-up. It's working brilliantly - massive thank you to Charlotte at Lil Miss Chickas  for pointing out my obvious laziness in her post. 
So the Garnier micellar water has had a thorough testing and I have to say it's nothing groundbreaking and is equally as good as L'Oreal (review). I genuinely couldn't tell you any differences between them and I have really tried. I like the bottle a lot more on the Garnier version the chunky round shape and pink lid appeal in the same way Bioderma's very similar packaging does. This version removes my make-up just as well. I think this is a product that all UK skin care brands are going to bring out at some point this year and I can't imagine any of them being particularly awful as the concept is so simple. I currently have no loyalty to any of them and will be picking up my pre-cleanse micellar waters purely based on price. Most new entries to the market are on offer for just £2 - £3 so a bargain for an everyday purchase. As for the 400ml = 200 uses slogan on this bottle, are you kidding! This is based on 2ml per use so you'd have to extremely light make-up on for this to be anywhere near close. A silly claim that is so unnecessary - it lasts just as long as all other brands and for the price I don't think anyone would expect 200 or 100 days worth out of it.