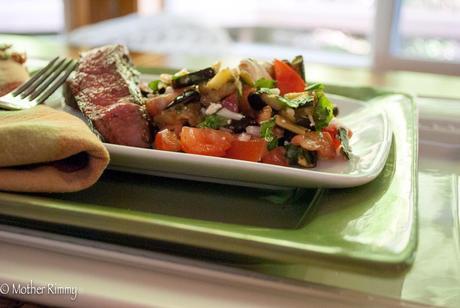 It's salad week at Mother Rimmy's house.
With the abundance of garden fresh vegetables like eggplant available at the markets these days, we'd be crazy not to take advantage!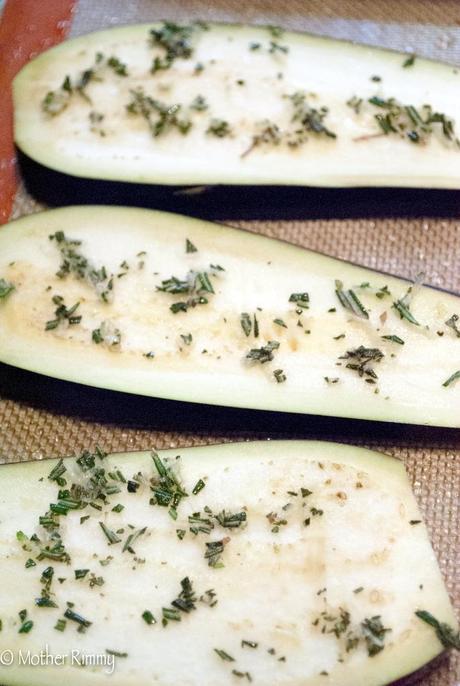 I'm an eat with the seasons kind of person. While it's not quite eggplant season here in Seattle, it came in my CSA, so I was happy to oblige and add it to this salad recipe.
I think this unique vegetable has a kind of rustic appeal, so I decided to roast it with fresh rosemary and garlic. The fragrance was incredible!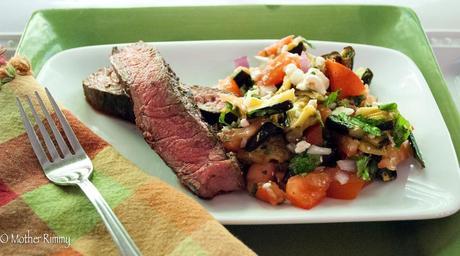 I fine tuned this salad with colorful red tomatoes for contrast, red onion to add kick, basil, fruity olive oil, and a squeeze of fresh lemon juice.
Don't forget a crumble of feta cheese!
Our veggie fresh salad was ready to serve, and complimented our grilled flank steak deliciously.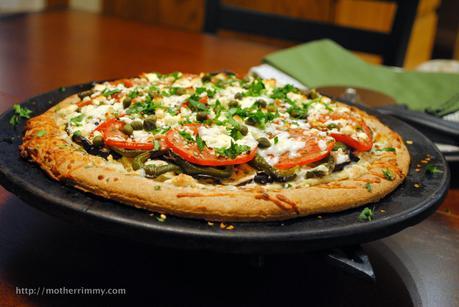 If you have leftover eggplant, give this garlicky eggplant pizza a try. All it takes is a pre-baked pizza crust, or if you're lucky like I am, your local grocery store might sell you whole wheat pizza dough.
Enjoy and have a terrific weekend!
~Kristi
Print

Garlicky Roasted Eggplant Salad with Tomatoes and Feta Cheese
Serving Size: 4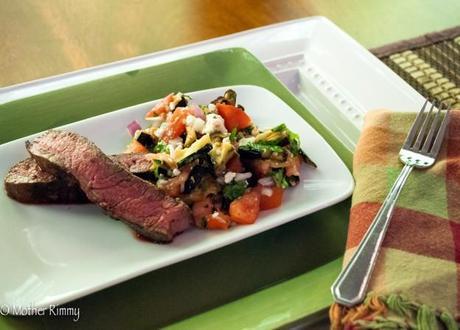 Shake It Up! If you aren't a fan of eggplant, try roasting zucchini, yellow squash or sweet potatoes.
Ingredients
2 medium eggplant, cut into 1/4" thick planks
2 tablespoons rosemary, minced
3 clove garlic, crushed
2 large tomatoes, chopped, then drained in a colander to remove liquid
¼ cup red onion, finely chopped
1/4 cup chopped fresh basil
2 tablespoon olive oil
1 squeeze lemon juice
4 tablespoons low fat crumbled feta cheese
salt and pepper to taste
Instructions
Preheat the oven to 450 degrees and spray a non-stick cookie sheet generously with cooking spray. I line a cookie sheet with foil first to reduce cleanup time.
Combine rosemary, 2 cloves garlic and 1 tablespoon olive oil in a bowl, then spread over eggplant.
Roast eggplant for 15 - 20 minutes until just tender. Flip halfway through to brown both sides. Remove from the oven and allow to cool.
Chop eggplant into bite sized pieces and add to the remaining ingredients. Chill for 20 minutes then serve.
Notes
Food energy: 145kcal Saturated fatty acids: 1.16g Monounsaturated fatty acids: 5.04g Polyunsaturated fatty acids: 1.00g Total fat: 7.20g Calories from fat: 64 Cholesterol: -- Carbohydrate, by difference: 20.06g Total dietary fiber: 9.82g Protein: 3.51g Total lipid (fat): 7.65g Water: 319.34g Ash: 2.27g Total sugars: 8.87g Calcium: 58mg Iron: 1.41mg Magnesium: 47mg Phosphorus: 88mg Potassium: 792mg Sodium: 11mg
2.5http://motherrimmy.com/recipe-roasted-eggplant-salad-tomatoes-feta-cheese/Mother Rimmy�s Cooking Light Done Right by Kristin A. Rimkus is licensed under a Creative Commons Attribution-Noncommercial-No Derivative Works 3.0 United States License.