Bridget Elahcene of sowandso.comGardening fan Bridget Elahcene from www.sowandso.com/ wondered if she'd bitten off more than she could chew when she moved to her new home, the Ladysmith Villas... However, her growing skills have been confirmed as she now enjoys a beautiful and productive garden, overflowing with flowers, fruit and vegetables - proving that with dedication, determination and of course time, anyone  can create a garden that keeps on giving, year after year.
We moved to the Villas six years ago with a small amount of gardening knowledge and a large amount of garden to sort out. The land had been neglected for some years and then heartless property developers brutally levelled it …so when we arrived we knew only too well the challenges that lay ahead.
Little by little, zone by zone, one weekend at a time and on a tight budget, we started transforming the wasteland into a garden …and this year we are finally basking in the glorious light at the end of a long, hard tunnel and enjoying the fruits of our labor – literally! Of course with gardening you never really finish, but that's all part of the adventure.
Raspberries
Our fruit cage is almost entirely given over to raspberries. The central bed contains about a dozen Autumn Bliss while the perimeter beds have been planted more recently (January this year to be precise) with three new (to us) varieties –  Malling Minerva, Glen Ample and Tulameen.

The Autumn Bliss were a gift from our next door neighbours when we first moved in (suckers from their own canes) and they have gone from strength to strength as they established themselves in their new home.

I must say we've had a better crop this year than ever before (I've been able to freeze a couple of kilos to see us through the winter months) and there are still plenty on the canes that I shall harvest for an apple and raspberry crumble at the weekend.

The newer canes planted earlier this year are still very young and didn't fruit much this summer but I'm expecting great things for next year… If we get enough, I quite fancy the idea of making some raspberry cordial.

We have six blackcurrant bushes tucked away in one corner that always crop well and need very little attention – just cut them down to the ground during the winter and they re-appear with vigour in the spring… my kind of plant!

Incidentally we've also got an old tin bath planted up with cut and come again salad leaves which is still cropping well – however, I shall be moving it to the greenhouse very soon to extend the growing season before we get that first inevitable frost…

Some time soon I shall be generously mulching all the fruit cage beds with home produced leaf mold and hopefully some well rotted farmyard manure (if I can get hold of any) to condition the soil – I particularly need to improve its moisture retention – as well as to protect the plant roots in case we get any particularly hard frosts.

Grapes

The grape vines we planted two years ago have really come into their own this year. We have them growing up a trellis attached to the outside of the fruit cage facing south east for maximum sun. The varieties were chosen for their tolerance of our climate – a white grape called Chardonnay and a black grape called Boskoop Glory and much to our delight both are bearing multiple bunches of fruit.

The grapes themselves are sweet due to all the glorious sunshine we've had this year, but quite small – so next June I plan to thin the individual grapes by about 25% per bunch to allow space for the remaining grapes to grow bigger…

Tomatoes

Meanwhile in the greenhouse – which is unheated - the Golden Sunrise tomatoes are still plentiful which seems odd this late in the season. But then of course, we did have a very late spring. There must be about two kilos of bright yellow fruit on the vines waiting to be picked and they are such a pretty color. I've been very pleased with this particular variety which is flavoursome and crops well but I've promised my mother I will also grow Gardeners Delight next year – her personal favorite.

Also in the greenhouse are a couple of pots containing coriander that I planted from seed a few weeks ago that I am looking forward to adding to our salads through the winter months …and a Jasmine and an Angels Trumpet that I am over-wintering in there, to be returned to the border next spring. I plan to get some bubble wrap for added protection because I would be sorry to lose either of them.
Most recently we have set up a Notcutts potato planter in the greenhouse and planted six seed potatoes inside, hoping for a crop in time for Christmas. We've never used a planter for growing potatoes before so it's a new and rather exciting experience!

Lightweight and easy to assemble, it now sits on a spare bit of earth opposite the tomatoes where the cucumbers, long since finished, used to be. Every now and again I check for green shoots but nothing as yet. I might have left it too late in the season – we'll just have to wait and see.

As in the fruit cage, the greenhouse beds will be getting a good layer of mulch applied before the next growing season.

Fruit and nuts
CobnutsBeautiful as they were earlier in the summer, I've now cleared away all the spent Blue Borage and cut back the vigorous and very tall Lamb's Mint exposing the two young cobnut trees that we planted back in February and the apple tree (variety unknown) that's been there for a few years now.

I'm particularly interested in observing the cobnuts' progress and am very excited by the prospect of producing our own nuts at the Villas in the next year or two. Much to my interest, even though they're still only about a meter tall, I noticed they both bear catkins which is a positive sign of things to come… No doubt the number of squirrel sightings in the vicinity is set to increase!

Asparagus
Our asparagus bed is only three years old – I bought four crowns in Year one and, feeling a bit more adventurous in Year two, bought a packet of seeds as well, so we now have about 25 plants in all.

We enjoyed a handful of spears this year from the original crowns but growing asparagus is a long term project which takes a while to get going, but in return for your initial patience are decades of productivity….

For now we have a veritable jungle of ferns that will soon be turning brown and dying back, at which point I shall clear the ground and apply a good thick layer of mulch in preparation for the winter.

Artichokes

Another recent and similarly long term project at the Villas is growing globe artichokes.  The variety is Tavor which was recommended to us because of it's resistance to long cold winters. Like the asparagus, they have a dedicated bed and although there are only six plants they grow very large and need plenty of space.

Once established they should feed us for years to come with a minimum of care other than irrigation during any dry spells through the summer and a good mulching in the autumn to condition the soil as well as help protect the crowns from frost.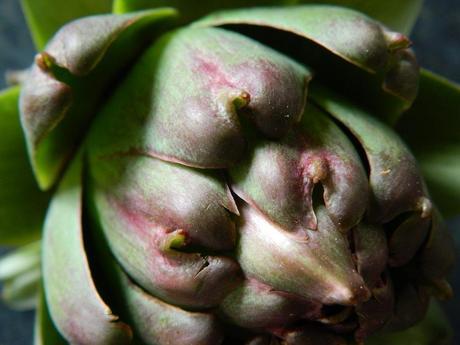 We're massive fans of this luxury vegetable and can't wait to start reaping the rewards next year …and the year after that …and the year after that…

Well there you have it – our October garden in a (cob)nutshell!  All in all, 2013 has been the most interesting, enjoyable, colourful and rewarding year so far. Fruit, vegetables and flowers all seem to have thrived in the long, warm summer that we've just enjoyed …and deserved, after the string of cool, wet summers of late that we've had to endure, plus the fact that we are at last beginning to get our heads around this gardening lark, with a few years of experience lodged firmly under our belt.