I am a shoe person.  I don't spend a lot of money on very expensive shoes but I do love shoes.  I have a drawer in my desk at work that is nicknamed by my work colleagues as my "Imelda" drawer.   My excuse for this is that I walk to work in sensible flats, change into heels, and then frequently get halfway home and realise that I still have my heels on and the flats are under my desk.  So, I come to work the next day with different shoes and ….well there you go, you can see what happens.
It is probably because my shoes are not expensive LK Bennett, Manolos or Gucci,  that I don't take tremendous care of them.   This is very obvious when it comes to going out into the garden.   I have ruined many a good pair just popping out to see what is going on, finding something to do and before you know it  – one pair of good shoes becomes scuffed and muddy.
I am getting better though and now have one old pair of "walking to work" shoes by the back door, ready to step into.   They are good and sturdy, excellent for gardening.  It doesn't always work but they are there to remind me to be more careful.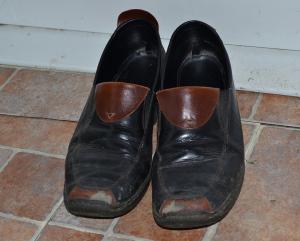 My other gardening footwear are my extremely comfortable 22 year old walking boots.   They are great for digging and heavy duty gardening in the winter months.  The clay-like mud does get caked in the soles but a good wash and plenty of waxing makes them presentable again.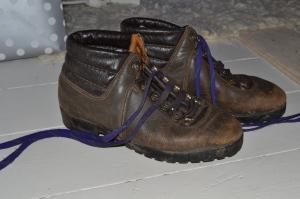 What are your favourite gardening shoes?  I would love to know.   If you have your own blog why don't you post a photo and share them, leaving a link in the comment box below.
Other blogs about shoes: