With our series of interviews with garden designers coming to a close, we're proud to share with you the thoughts of Rachel Mathews. Whether you're looking for advice on how to build your garden from scratch and on a budget, to teaching yourself garden design, Rachel is there with you every step of the way.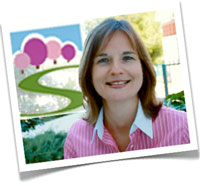 Rachel MathewsRachel Mathews of ORIGIN garden design has been in the business for over 20 years and she is a designer with a difference. Through her site, Successful Garden Design, Rachel spills the tricks of the trade to help the average gardener create the garden of their dreams. Here, techniques used by professional garden designers are laid out in a series of courses, video tutorials, articles, newsletters and a free report. There is certainly no reason why you can't design your own garden, something that Rachel is very passionate about. Her YouTube channel has hit over 700 subscribers since its inception in 2009 and her 21 videos have collectively been seen over 454,000 times. If you're looking for help in the garden and are on a budget, Successful Garden Design is a good place to start.

We caught up with Rachel, asking her a few questions and picking her brain on a couple of ideas that we can use in our garden.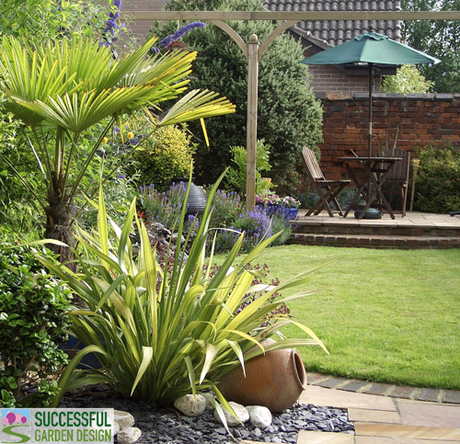 Where did the idea of Successful Garden Design come from?
The idea arose when I was approached by an adult education college in Cambridge, to teach an evening class in garden design. Whilst the idea of teaching design was very appealing, I didn't want a weekly commitment, as I like to travel a lot. Plus I was also a little bit nervous about teaching people face to-face, having never done it before, so the idea of having pre-recorded lessons that people could watch as many times as they like, online, seemed like a great idea.
Were you worried about giving too many secret professional gardening techniques away?
No. My job is to help ensure people create the best garden they can, either by designing it for them or showing them how to do it themselves. There will always be people who prefer to have a design done for them as opposed to DIY.
Has Successful Garden Design affected ORIGIN in any way? Have you found more people are willing to create their own outdoor space rather than call in the professionals? Has the recession played a part?
If anything Successful Garden Design has helped ORIGIN. People see my videos on YouTube or on the Successful Garden Design website and they feel like they already know me and it makes them more willing to pick up the phone and hire me. I think the recession has made more people want to have a go themselves, which is good. People can design their own garden, it doesn't have to be anywhere near as complicated as some garden design books seem to make it!
How big a part does your design clinic play? What does your design clinic aim to provide?
The design clinic doesn't play as big a part as I had envisaged it would. The original idea was that people could send me a design they'd done themselves for a critique on how to improve it before they build it, to make sure they'd got everything in the right place. I then later added the worldwide postal garden design service and that has been really popular. I'm loving the challenge of designing gardens in locations like Malaysia, America, Australia and, of course, different parts of the UK.
For our readers wanting to landscape their garden and thinking of doing it themselves, what would be their first steps?
The first step in designing a garden is to work out exactly what you want. It's much easier to achieve your dream garden if you know what you're aiming for at the outset. So look through lots of pictures of gardens for inspiration. In particular look out for whether you are a straight lines or curves person. This will help make sure you get the right type of design shape in place that suits your tastes.
The key to designing a great looking garden is to design the empty spaces first, like the lawn or patio areas. Once you get these right, then everything else just falls into place easily. Most people do it the other way round; they focus on the plants and features and then end up with an odd shaped lawn that doesn't tie in properly with the rest of the garden. In a well-designed garden, everything links together and is interrelated.

What would be your advice to those looking to make a statement in their garden that wouldn't be too difficult or costly?
The best statement a garden can have is to be well designed and have flowing shapes that make the best use of the space. It can be as simple as reshaping your lawn, and that costs nothing more than perhaps a weekend and a slightly aching back!
People get far too obsessed with features and snazzy lighting and forget about design. You can spend every penny you have on those things, and it really won't make your garden look great unless you have the right design shapes in place first. I can't stress enough, just how important good design shapes are. They make the difference between the average boring back garden and something that makes people say 'wow' the moment they see your garden.
What flowers would you use in the garden that don't require too much maintenance yet look visually stunning?
One of my favourites is Agapanthus; they flower for months, have evergreen foliage in milder areas and are a gorgeous blue color. They work well in both traditional and contemporary style gardens. Hemerocallis lilies are another one for similar reasons. I particularly like the creamy 'Gentle Shepherd' and the fiery red 'Crimson Pirate' varieties. I also love Iris 'Black Swan'. Although it doesn't flower for a particularly long time, I think the spiky, glaucous foliage is attractive by itself.

How would you go about creating a planting scheme?
Creating a great looking planting scheme is quite an in-depth process. You need to take into account not only the soil, sun/shade and water conditions that you have in your garden, you must also think about how each plant will look in conjunction with the surrounding plants. Then of course throw in getting all the plants at the right height and having it look good all year round! It's quite a lot to hold in your head, which is why putting your ideas down on paper is so valuable.
I tend to work with at least a third evergreens and then a third shrubs and the final third flowering herbaceous perennials; I find this creates a good mix. I do of course adjust it depending on the style of planting scheme that I'm doing. It's such an in-depth topic that I've created an online Plant Design Workshop that shows people the fundamental things they need to get right in order to put plants together well.
How would you invite nature into the garden? What's your favorite approach?
Just having a good selection of plants will invite nature in. Birds need trees that are high enough to keep them safe from predators like cats; access to water and a good selection of plants with autumn berries is also a good idea. I really like the bamboo insect hotels you can buy these days; I think they look nice and provide a valuable function.
Planting a selection of real flowers is really important, not just laboratory created annual hybrids that have no nectar, for bees.
What does the magic of gardening mean to you?
For me the real magic of gardening is when nature surprises you with a combination or view that you hadn't thought of on paper. As designers we are always co-creators with nature and it's lovely when she adds the final brushstroke of perfection to a well-planned garden.